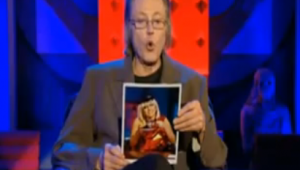 Oh, this is fun: Here's Christopher Walken performing Lady Gaga's "Poker Face" Friday night on the BBC, which makes perfect sense. Dear God I hope this was an audition for him to appear in another video.
No more introduction needed, so I'll segue into two other points here: (1) The actual Gaga video (below) has INSANE hits on YouTube, though I'm mystefied why Universal Music disables embedding, particularly for this crap-quality version. Record companies, they're so smart on new media. Anyhow, plays: this one has 14,715,608; this one has 20,535,096; this one has 9,253,745; there are, of course, more. At this points, YouTube's colossal failure to monetize is just pathetic. (2) Christopher Walken starred in The Dead Zone, which was the first Stephen King book I ever read before obsessing about The Shining.
Walken's dramatic reading and Gaga's pleather-tastic vid below.
UPDATE: I have been informed by no less an authority than Jon Friedman, comedian and blogger at Late Night With Jimmy Fallon, that Jude Law also did a dramatic reading of "Poker Face" at Jimmy's behest over a month ago. I watched it, and it's pretty hot. Video duly added; no doubt Jon will add our collection from "The Shining" to his Halloween link round-up! I love the Internet.

UPDATE TO THE UPDATE: Ken Schafer reminds that we have a long and illustrious history of mocking pop lyrics, and points out a clip of Steve Allen reading the lyrics to "Be-Bop-A-Lula." You can see how people like Letterman owe a debt. That clip is included below, too.
Have a tip we should know? tips@mediaite.com