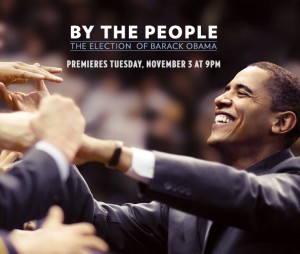 On Election Day this Tuesday, HBO will premiere By The People, which chronicles Barack Obama's campaign to win the presidency of the United States.
Ed Norton, who produced the film, called it "a document of what the internal reality of the movement was," and not so much of a juicy behind-the-scenes exposé. The New York Times' Brian Stelter called the film "One of the most candid reflections yet of what happened to Mr. Obama during the 2008 presidential election campaign and what it signified for the United States."
And what better time to summon the energy and excitement of last fall than Election Day, one year later, as Obama seems increasingly slow to act and his legislative initiatives are slow and stalling.
In the film, which premieres at 9 pmET on HBO, we meet a whole host of characters, including Edith Childs, the city councilwoman from South Carolina who was the inspiration for Obama's recurring 'fired-up, ready-to-go' pep talk. From Mediate columnist Katie Baker's review of By The People:
We meet Tommy Vietor, the baby-faced Iowa press secretary, and Ronnie Cho, the son of Korean immigrants who throughout the course of the film rivaled me in tears shed. We meet the people — David Axelrod, David Plouffe, Robert Gibbs — whose names flooded the news and our email inboxes. And we meet, in intimate, backstage detail, Senator Barack Obama.
Read Mediaite columnist Katie Baker's review A Race Remembered: Obama Doc, By The People [Mediaite]
Watch clips from HBO's By the People [HBO]
Read Brian Stelter's review of By the People [NYT]
Have a tip we should know? tips@mediaite.com