Chuck Todd Reveals Peculiar Fact: Trump Watches Back His Interviews With the Sound Off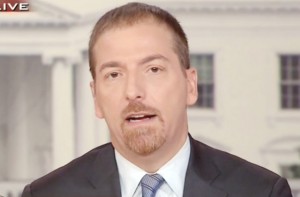 During an interview with POLITICO's Glenn Thrush, NBC's Chuck Todd pondered some of the more striking observations he has made about Donald Trump after covering the mogul as much as he has.
The wide-range interview covered a variety of topics, but when the president-elect came up, Todd said there were a few ticks he noticed about Trump where "[It] drives me crazy." According to Todd, Trump is so concerned about his visual image that he will frequently watch clips of himself with the sound off.
Todd quoted a source close to Trump who said that whenever the mogul finishes an interview, he'll ask about how he looked, but not as much about how he sounded or what he said.
"The amount of time he spends after the interview is over with the sound off — he wants to see what it all looked like. He will watch the whole thing on mute," said Todd. "He's a very, visual guy. He thinks this way, and look, it's an important insight in just understanding him. The visual stuff is very real beyond just himself."
As the Washington Examiner noted, Trump's habit of watching himself might have come from his affiliation with former Fox News chief Roger Ailes. Ailes has said in the past that he would study how people performed on camera without sound, which helped him decide which TV performers would do best as on-air talent.
Todd went on to talk about related subjects: from his dislike of phone interviews, to his thoughts about whether Trump is the latest president to have "daddy issues" (which Todd said was common for past presidents). One topic that Todd talked about at length, however, was that he has never seen a clip of Trump laughing.
"I challenge somebody to find him laughing, and that person has yet to find an example, in my opinion. He'll smile, but he smiles appropriately. Watch him at the Al Smith dinner…He doesn't really laugh. He looks for others to laugh. It is just weird."
You can listen to the podcast here.
[Image via screengrab]
— —
>> Follow Ken Meyer (@KenMeyer91) on Twitter
Have a tip we should know? tips@mediaite.com