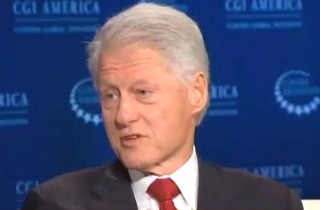 Promoting his book Clinton, Inc., in Washington, D.C., Tuesday, Daniel Harper of the conservative Weekly Standard put forth the possibility that former president Bill Clinton is actively trying to sabotage his wife and former Secretary of State Hillary in her ambitions for the White House in 2016.
"When I heard that, I thought it was crazy," Harper said, recalling his reporting for the book. "There's just no way. Obviously [Bill] wants to get back into the White House. But then you hear it from multiple people and multiple good sources and you start to realize that this is a man who has cheated on his wife before. This is a man who is not always faithful to his wife."
Harper continued, charging that Bill "is always faithful to himself. He is a classic narcissist. He is a selfish man. And you start to realize that makes sense. That explains all his stupid actions leading up to [2016]."
In addition to Bill's infamous affair with Monica Lewinsky, Halper claimed that Bill has tried politically harming Hillary by commenting on her health.
"This health issue that was asked about her," Halper said, "was made a million times worse when Bill Clinton said, 'well, yeah, it was really bad for her. It took her six months to recover.' Why would he say something like that? Is he trying to help her or is he trying to hurt her? There are certain things throughout [Bill] Clinton's campaigning for her that aides have looked at and thought, 'this guy, he's not doing her any favors.'"
Hillary in late 2012 was diagnosed with a brain clot between her brain and skull that left her hospitalized for several months. Bill said in May this year that the resulting concussion took "six months of very serious work" for Hillary to recover from, a claim that contradicted previous statements from the State Department that Hillary recovered after one month.
"Bill clinton is her biggest asset because he is this genius, artful politician," Halper asserted. "But also so clearly her biggest liability."
[Image via screengrab]
— —
>> Follow Eddie Scarry (@eScarry) on Twitter
Have a tip we should know? tips@mediaite.com