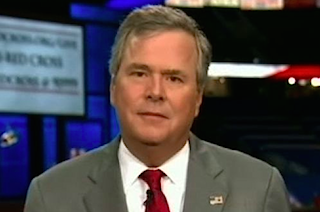 Last month, as Peter Schweitzer made the media rounds to promote his book Clinton Cash
, which uncovered evidence-free connections between Clinton Foundation donations and State Department actions, he told Bloomberg that he was preparing to give Jeb Bush the same treatment. Today, the author revealed some more details of that investigation to radio host Hugh Hewitt.
"With the Clintons, we followed the money. And I think it's pretty clear that their enrichment is a result of the public service that Hillary Clinton engaged in," Schweitzer told Hewitt. "We applied the same standard to Jeb Bush," he added, saying that as the governor of Florida, the prospective 2016 Republican presidential candidate had "a lot of things that you can do."
Schweitzer said he expects to have something to publish in early September of this year. "If there was nothing there, I think we would have stopped the investigation," he said. "I think we're finding some interesting, compelling things," he added of the "active inquiry" into Bush's public and private dealings.
Hewitt, who said he was "shocked" by the insinuations and believes all of the Bushes to be "clean as the Yankee snow," suggested that the author was using the success of his Clinton book to draw attention to his next project. "Aren't people convicting Jeb in their minds?" he asked. "Don't you kind of create the expectation then that you've got to deliver a verdict of 'guilty, guilty, guilty?'"
Schweitzer urged listeners to not "prejudge" anything about Bush until his investigation comes out. "Don't jump to that assumption at all. Let's wait and see in September when it comes out," he said, working in one more plug. "What level it rises to, we'll have to see, but I will say that it's not as if we looked into this and there was absolutely nothing."
Listen to audio below, via The Hugh Hewitt Show:
[Photo via screengrab]
— —
>> Follow Matt Wilstein (@TheMattWilstein) on Twitter
Have a tip we should know? tips@mediaite.com