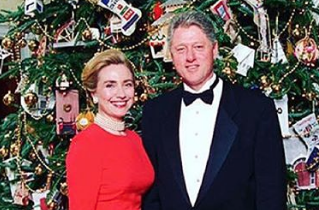 Hillary Clinton's relationship with young people is… complicated. She has insulted them for being more loyal to Bernie Sanders, but the truth is she just really wants them to like her. We know that because she panders to them constantly. She played a popular mobile game with Ellen DeGeneres. She snapped a selfie with Kim Kardashian and Kanye West. She made a Snapchat. Some could even argue that the hot sauce joke at an urban radio station was a little pander to, well, Beyoncé voters, quite literally.
Today, she put out a one-two punch of a Millennial olive branch when she created a listacle for #TBT. (A listacle is an article in the form of a list à la Buzzfeed and #TBT stands for Throwback Thursday, a weekly event during which Instagram users post old photos for the sake of nostalgia and/or hearing about how cute they were as kids. Try to keep up.)
"I've been called many things by many people. 'Quitter' is not one of them." #TBT https://t.co/wUjSOxc85I

— Hillary Clinton (@HillaryClinton) May 12, 2016
The listacle was compiled to highlight how Clinton's past stances, proclamations, and actions can give us clues about what her presidential stances, proclamations, and actions would be. So, beyond that Millennial pandering, the real goal here is to paint Clinton as a consistent person. Here's how the listacle starts:
Throwback Thursday is always a good time to learn more about a person's past, and Hillary Clinton is no different. It's fun to look back at baby pictures and old-school fashion—but there's also a lot to learn about what Hillary would be like as president from these #TBT photos and videos.
Old quotes from Clinton serve to show that she doesn't back down from tough challenges, respects the progress made under President Barack Obama, has a record of getting things done, and more. Click here to go see the whole list.
What do you think about the #TBT? Good move? Bad move? Let us know!
[image via screengrab]
For more from Lindsey, go to Twitter or Facebook. There might even be a #TBT today…
Have a tip we should know? tips@mediaite.com