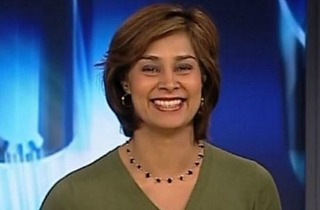 After noting that she spent a "decade" on international television, CNN International Anchor Zain Verjee disclosed on Wednesday that she has also "spent a lifetime hiding." The anchor disclosed on CNN.com a "painful secret" that she "can't bear to look in the mirror." Verjee reveled in a personal op-ed on Wednesday that she suffers from the skin condition psoriasis.

"I have fish-like scales," Verjee confessed. "There are tiny red islands floating on the surface of my skin. They combine to create continents with jagged surfaces. They turn black and start to smell. There is blood and pus."
My scalp spits out silver flakes. My ears are filled with crusts. I leave white specks wherever I sit. I float in long, loose clothes. My hands betray me. The sores sit openly. My nails are dented with pockmarks. I find strands of hair on the sheets and pillowcases every morning.
"The landscape from my neck down is chaos," Verjee continued. "My face is flawless. Not a blemish. Not a mark. Compliments are endless. But I am acutely aware that a horror film unfolds in secret beneath my clothes."
She said that she has developed a talent for performing daily tasks in the dark so as not to be confronted with her own condition. She revealed that she is also incapable of enjoying intimate contact. " I have no sensation of touch," Verjee disclosed. "The scales are too thick."
But there is hope for the CNN International anchor. She revealed that a new diet has eased some of her symptoms and has purchased, for the first time in her life, a bikini. "I have never felt like a woman the way I do when I put it on," Verjee concluded. "I see all my curves in a different light. The mirror is not my enemy any longer."
[Photo via CNN.com ]
— —
> >Follow Noah Rothman (@NoahCRothman) on Twitter
Have a tip we should know? tips@mediaite.com