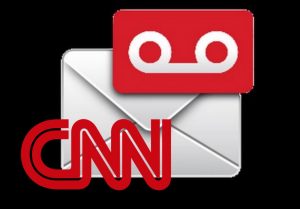 You might have forgotten it over the course of the election, but major news networks do more than just keep up with the back-and-forth of political mudslinging. CNN never forgot that, of course. Last February, for instance, they released "Love Story: Voicemails of Love From Around the World." They put out a phone number and let people call in and leave the oral history of their love on the automated answering machine. That was so successful that they tried again this past week with a project called "Voicemails from America," which combined political coverage with outreach to the everyday viewer. After the election was over, they asked people to call in and leave voicemail messages with their reactions.
Over 1500 people called.
One man from Flagstaff, Arizona, revealed that when his father was in the military, their family was stationed in Germany. "I'm black and I'm Mexican," he explained before revealing that he had felt more accepted in the country that had once been so divided that the Holocaust was able to happen than he now feels in America.
Another message started simply, "I voted for [Donald] Trump. I didn't feel good about it." The caller went on to explain that she is worried about hate crimes and the behavior of some Trump supporters but hopes that the country can unify and move away from "big governments." On the other hand, a man who identified himself as gay said of his decision to vote for Trump, "I couldn't be happier."
There was also fear. One man spoke of his concern for his wife and sister-in-law, both of whom are Muslim women who choose to wear the hijab. Another woman explained that she is transgender "and fucking terrified." A Jewish man expressed that it's been difficult to stay optimistic when his young son has inquired why the Nazis are coming back.
CNN's dedication to reaching everyday Americans has shown up in their coverage over the last few months. We told you a few weeks ago about their #MyVote initiative, which saw reporters traveling the country with a special camper and talking to the voters who are so often overlooked by mainstream outlets and pollsters.
Click here to hear the voicemails, which contrast sentiments like "I think Trump's gonna do a good job" with "It feels like a death, like I'm mourning the loss of somebody I love — but also the country I love."
If you want to call and leave a message, you still can. The line will remain open until the inauguration of President Trump in January. Call (646) 535-9720.
[image: screengrab]
Have a tip we should know? tips@mediaite.com