CNN Setting Itself Up to Struggle Mightily on the Political Front Until Election Day; Here's Why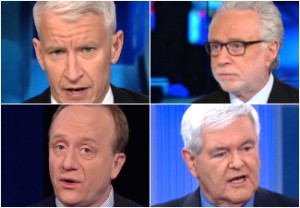 The 2016 election is still 532 days away. During that time, we'll crown two Stanley Cup champions, two NBA champs, two World Series winners and a Super Bowl victor. In other words, the big day ain't coming for a long, long time.
But if you've watched all of the cable news networks for the past two months, you'd think Americans are casting their ballots this November, not the following one. A total of eight candidates have already announced, with several obvious ones on the verge of doing so (including your eventual winner, John Kasich). And in absorbing all of the coverage of Fox, CNN and MSNBC lately, one thing is abundantly clear:
CNN is nowhere near where it needs to be if it wants to be competitive.
As noted a few times in this space, CNN is in a better place since Jeff Zucker took over. From a ratings perspective, the network has jumped from third to second place. Part of the reason (besides MSNBC's implosion) is Zucker's push for more taped programming in the form of documentaries such as The Sixties and programs like Morgan Spirlock's Inside Man, Mike Rowe's Somebody's Gotta Do It, and Anthony Bourdain's Parts Unknown. Another part is his All-All-In philosophy on certain breaking news, when one story dominates the networks for days and even weeks (or months, as was the case with MH370). Agree with the moves or not, the overall sentiment here was Zucker had to do something bold other than try to compete with MSNBC and Fox on the political opinion front, and going the old HBO/MTV route (offering more original programming and less of the original content model) was the right call given the hand he was dealt.
"Those two channels (Fox and MSNBC) are covering political news. We're covering politics and much more," Zucker stated in his first year at CNN. "Our competition now is two political channels that have actually left most of the actual news coverage to the side,"
And that thinking is all well and good during non-election seasons. But now that we're basically in one, the nation's focus is on the theatre that are presidential campaigns. It also happens to be the most important election of our lifetime (no really, this time it's actually true), thanks to the very real possibility that not one, not two, but three Supreme Court justices will need to be replaced. You want to know where the real power lies in government? Try the Federal Reserve and the highest court in the land, not necessarily in that order. Of course, breaking news will still exist and CNN will still see bumps during those moments, but the perpetual political conversation threatens to overshadow standard breaking news even more, putting the network in a tough position until November 8, 2016 finally comes around.
In looking at the changes Zucker has made, the most noteworthy (and important) place to look is primetime. Erin Burnett—the network's most consistent performer–is rightly still at 7:00p EST. Anderson Cooper is still at 8, but lost his 10:00 PM AC360° Later panel show. Piers Morgan was relieved of his duties at 9 and has been replaced by a mix of CNN Special Report (Tuesday this week) and various taped programming (Bourdain, Bourdain, Rowe, and Bourdain are on Monday, Wednesday, Thursday and Friday this week, respectively). At 10, CNN Tonight is essentially the Don Lemon hour, where the focus seemingly is on the more sensational stuff mixed with debates around race issues.
So what do all of those shows and personalities have in common? They're all generally apolitical. Burnett and Cooper have a reporter's DNA first and their programs largely reflect more of anchors breaking down big stories than what is normally the modus operandi of opinion hosts (staking out positions on big and/or controversial stories of the day and discussing/debating them throughout the program). The aforementioned taped programs don't explore American politics in any capacity. Lemon's show occasionally veers into this space, but invariably from a social issue perspective. In other words, CNN primetime will never be confused with MSNBC prime (Matthews, Hayes, Maddow, O'Donnell) and Fox (Van Susteren, O'Reilly, Kelly, Hannity).
When looking at CNN's overall weekday schedule, the only true political host in the bunch is Jake Tapper, who currently sits in not-so-friendly timeslot of 4:00p EST. The network once had Crossfire 2.0 at 6:30p, but the show was pre-empted so many times due to the All-All-In strategy that it could never build a following (the chemistry between the cast wasn't exactly magic, either). Candy Crowley is no longer with the network. Peter Hamby—a big up-and-coming talent—has mostly left for Snapchat (he'll still be a CNN contributor, but his primary responsibilities and time will be with Snapchat). Jay Carney lasted about six minutes before running for the truly big money at Amazon.
John King hosts a weekend political panel show, but also falls into the wonky-anchor-category than impactful-opinion guy. So does Jim Acosta, the network's outstanding White House Senior Correspondent. Wolf Blitzer is a familiar face, but after all these years, still non-descript. Newt Gingrich and Paul Begala are fine, but you keep waiting for Bell Biv Devoe or Pearl Jam to play in the background when either is speaking (Begala's close ties to Hillary also make him the Stephanopolous of CNN to half the audience). S.E. Cupp—formerly of Crossfire—is still underutilized and would be the next host of Fox's Red Eye if she wasn't under contract.
Add it all up, and CNN faces some serious challenges once the campaign dominates the conversation. It has no politically-focused shows in primetime. Its best asset is stuck in the wilderness of 4:00 PM. Its second-best asset just basically left for Snapchat. And CNN prides itself on not taking a side, which could be a negative (strictly from a numbers perspective) in a increasingly-polarized country where independents and issue-to-issue thinkers are harder to come by.
The good news for Zucker is that MSNBC is so dysfunctional right now that CNN's hold on second place may not be in jeopardy. The network president is likely updating his LinkedIn page as you read this. Al Sharpton is still somehow allowed to (attempt to) read a teleprompter. Chris Hayes did a 58 in the demo at 8:00 PM last Monday (context: Cooper – 171, O'Reilly – 469). As mentioned here before, MSNBC is built around presidential elections and had its best year in 2012. It may make another run upward again, but will need to change many of the horses in the stable before doing so.
The network that will benefit from the 2016 race most is Fox, all thanks to the train wreck of a campaign currently being offered up by Hillary Clinton: Every day a new revelation, a new reason to talk about anything but Mrs. Clinton's worldview, which changes with each passing focus group anyway. And with the former Secretary of State shunning the press—only answering questions when there's absolutely no other option—the speculation, analysis and conjecture only grows. Fox's political team from both a reporting (Baier, Wallace, Rosen, Cameron, Henry) and opinion perspective (Krauthammer, Hayes, Stirewalt, Perino, Powers, Williams, Roginsky) is unmatched—even on a Big Three network level–and a Clinton campaign full of daily controversy mixed with the usual secrecy (with a touch of occasional Bill going off) will make every producer's job at FNC relatively easy for the next 17 months.
But for CNN, it's going to be a long 532 days.
CNN is built for breaking news and documentaries.
Politics? Maybe in 1980 or 1990 or even 2000, when the network was #1.
But in the 21st Century, the game is about who creates the most compelling dialogue and debate… a game CNN doesn't want to play given its limited and unspectacular resources currently on display.
— —
Follow Joe Concha on Twitter @JoeConchaTV
Have a tip we should know? tips@mediaite.com