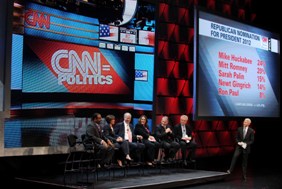 CNN held a "newsmakers" event this morning in New York, which basically consisted of an upfront-like presentation rallying advertisers and panels featuring the talent on CNN and HLN.
One point the network continued to consistently hammer home – ignore the prime time ratings dip, it doesn't matter, we're the only ones doing journalism.
It started with this new slogan, from Executive Vice President of CNN Ad Sales Greg D'Alba: "For the CNN brands, prime time is all the time."
It's an interesting route – obviously, prime time is struggling, so change the subject to show that prime time is no longer what's important. This is a tactic CNN has employed in the past. It's about the journalism – and according to D'Alba, "there's less journalism" out there in the cable news arena.
President of CNN Worldwide Jim Walton echoed the sentiments of D'Alba, jokingly thanking "the media for all the great coverage we've had," and later pointing to CNN as the "only credible non-partisan voice left, and that matters."
And then it was more of the same from CNN/U.S. President Jon Klein – who held up one finger in the air to punctuate the point that CNN was in "a category of one." (It was also a designation he gave to Anderson Cooper later in the presentation.)
Although CNN execs worked to differentiate, and spin, their network from the cable news competition (now beating the "Most Trusted Name In News" by wider margins), the politics panel had tangential mentions of FNC and MSNBC. Of Mike Huckabee, who won a just-released CNN poll for top GOP presidential 2012 candidate, Candy Crowley said Huckabee "has a TV show, and that tends to help." Later, while discussing Eliot Spitzer's political prospects, Wolf Blitzer said, "He has a better chance of making in in cable."
Never one to hold back, a Fox News spokesperson had this to say to Mediaite after the event: "If Mr. Bewkes is satisfied with Jim's explanation for the dreadful performance of his cable news division, then who are we to judge?"
> Update: Matea Gold of the Los Angeles Times talked to Walton and Klein separately at the event. Walton told her, "I'm not satisfied with the ratings, but I'm not concerned." As for the Klein conversation:
"We don't have anything to announce," Klein said when asked of possible changes. "You're always looking, always, at what we can do better, how we can do it better. But there's nothing imminent."
—–
» Follow Steve Krakauer on Twitter
Have a tip we should know? tips@mediaite.com