CNN's Marc Lamont Hill, Sheriff David Clarke Fling Racial Slurs at Each Other on Twitter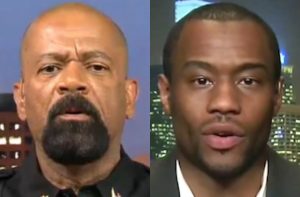 CNN contributor Marc Lamont Hill and outspoken Milwaukee County sheriff David Clarke flung racial slurs at each other on Twitter Tuesday.
Clarke got the feud rolling by linking to a story on Hill's comments that pro-Donald Trump blacks were "mediocre Negroes" paraded around by the Trump transition. Clarke– a Trump supporter– responded by calling Hill a "jigaboo," an archaic term for a black man generally considered offensive.
I am tired of this jigaboo telling black people who they should be, what they should do. He's a lackey for Democrats https://t.co/XRI5bEPo0F

— David A. Clarke, Jr. (@SheriffClarke) January 17, 2017
That prompted a response of course, including one in which Hill "didn't" call Clarke a variety of racial slurs (which of course was his way of doing just that).
I know YOU ain't talking about me, dog. YOU?!? Also, jigaboo?!?!? mwahahahahahhahahahahahahahahahah https://t.co/OjsblPCIZN

— Marc Lamont Hill (@marclamonthill) January 17, 2017
EXACTLY. I've never called @SheriffClarke an Uncle Tom, porch monkey, coon, hambone, shine, or handkerchief head. It's unseemly I tell ya! https://t.co/ZoP0Xpk4fW

— Marc Lamont Hill (@marclamonthill) January 17, 2017
[Image via screengrab]
—
>>Follow Alex Griswold (@HashtagGriswold) on Twitter
Have a tip we should know? tips@mediaite.com