CO Police Union: Only 'Race Baiting Morons' Think Shooter's Alive Because He's White
In a Facebook post Saturday, The Colorado Fraternal Order of Police admonished the "race baiting morons" who believe Robert Dear, the man accused of killing three people at a Planned Parenthood Friday, is only still alive because he is white.
They were reacting to tweets like this:
The #PlannedParenthood shooter is peacefully detained after shooting 5 officers.

We've been killed for far less. pic.twitter.com/kGoaKZc55o

— deray mckesson (@deray) November 28, 2015
That's right. Imagine if this had been ISIS. 24/7 all wkend. But this was a white guy. They made sure not 2 kill him https://t.co/V5kNhzmRzg

— Michael Moore (@MMFlint) November 28, 2015
"Sadly there are race baiting delusional ignorant fools with an agenda of hate that use any tragic event to peddle their corrupted opinion," the since-deleted post read. "What they don't understand is our job is to preserve life no take it. You see for us all lives matter."
The post added that "in yesterday's heroic police action," Dear was given the opportunity to live or die. "He chose to live, laid down his weapon, complied with all commands and peacefully surrendered," the statement read.
"What the race baiting morons who believe he was spared because he was white fail to acknowledge is that just this year alone there have been numerous shootings of police officer where the suspects were taken into custody," the post continued. "Many of those suspects were persons of color."
Without mentioning the #BlackLivesMatter movement, the post went on to reference "the national lie rooted in the Michael Brown incident."
"'Hands up don't shoot' is their mantra and a false narrative surrounding the events in Ferguson. They are not worthy of the right to post on your page. Let them peddle their hate filled, divisive rhetoric elsewhere. Thank you for your support brother," the post concluded.
You can read the post here: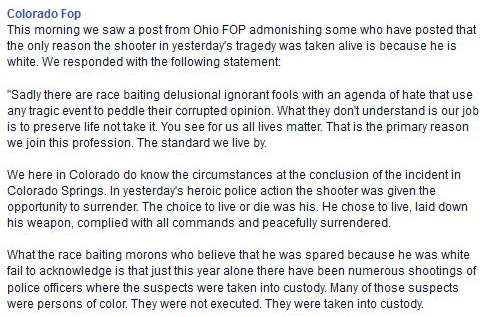 [Image via Shutterstock]
[h/t the Blaze]
—
>> Follow Elizabeth Preza on Twitter (@lizacisms)
Have a tip we should know? tips@mediaite.com