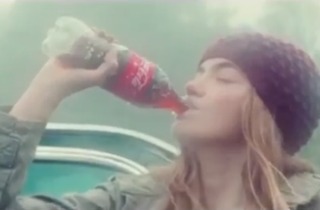 The Coca-Cola Company issued an apology and removed a video from its online advertising campaign after critics found it to be offensive towards Mexicans.
The ad shows a village full of indigenous Mexicans being visited by a group of white teenagers bringing them bottles of soda and helping them to construct a Coke-themed Christmas tree. The ad claims that 81.6% of Mexico's Mixe population feel marginalized because Spanish is not their first language, and the video encourages viewers to "break down prejudice" with the hashtag #AbreTuCorazon, which translates to "open your heart."
In the days that followed, Mexicans have taken to the Internet to criticize Coca-Cola, saying that the ad belittled the dignity of the Mexican people, and that it rubbed the "hipster colonialism" of white privilege in their faces. The ad "reproduced and reinforced stereotypes of indigenous people as culturally and racially subordinate," according to one critic, while another asked, "a marketing dept ever thought this was a good idea?"
"I consider this type of advertising an act of discrimination and racist, and it also promotes the breakdown of the social fabric by trying to impose a consumer culture a culture of consumption and outside communities," said advocate and lawyer Elvira Pablo, according to The Blaze.
A Coke spokesperson released a statement, saying that the video was supposed to "convey a message of unity and joy," but that they would be taking it down in response to the criticism:
"Our intention was never to be insensitive to or underestimate any indigenous group. We have now removed the video and apologize to anyone who may have been offended. In nearly 90 years in the country, Coca-Cola Mexico has worked to share messages of unity and friendship to contribute to build a society free of prejudices."
[h/t The Guardian]
[image via screengrab]
Have a tip we should know? tips@mediaite.com