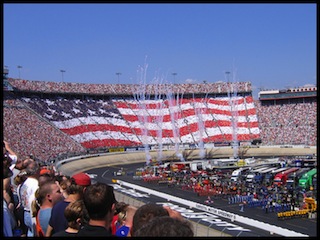 Well, now that's odd.
Over at SB Nation, they've discovered an interesting tidbit about an upcoming event at the White House. President Obama is set to honor the top 12 NASCAR drivers from last year, however, five of them have declined the invitation due to "scheduling conflicts." Man, there must be a really, really awesome party going on somewhere that day.
From SB Nation:
"President Barack Obama will honor NASCAR champion Jimmie Johnson and the 11 other Chase drivers from last year in a White House ceremony on Wednesday – but nearly half of the 2010 playoff contenders won't be there.

NASCAR said Thursday that five drivers – Greg Biffle, Kurt Busch, Carl Edwards, Kevin Harvick and Tony Stewart – will not be attending the White House visit due to 'schedule conflicts.'"
Now there's no way to know that this isn't some kind of coincidence. Scheduling conflicts happen. I mean, gosh, we must have moved the Mediaite editorial meeting like three times this week! That being said, our editorial meeting was never planned to be held in the White House and was probably not going to feature the most powerful man on the entire planet. At least, I don't think it was. I skim those memos.
Besides, when the White House invites entire championship teams from other sports, they all manage to show up, don't they?
So what do you think? Is this a whole lot of nothing or are our nation's stock car racers taking a stand against Obama like Jesse Owens refusing to salute Adolf Hitler. Really the only differences between this story and that one is that that one involved Hitler and track and field is a real sport.
YEAH, I SAID IT!
(h/t Gawker)
Have a tip we should know? tips@mediaite.com