Gov. Perry Wasn't Thinking About Running For President When He Wrote His Book … Last Year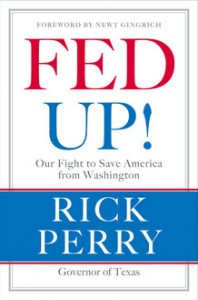 From the sounds of it, Rick Perry's book, Fed Up! Our Fight To Save America From Washington, is pretty incendiary. In the book, he blasts Washington as a "one-size fits all" place that forces states into its own image, preventing them from being as they wish to be. Perry's anti-federalist tendencies aren't exactly new news, nor are they necessarily bad news for his campaign. The at times vitriolic way he takes aim at certain existing federal programs, like Social Security (,which he believes to be a Ponzi Scheme), and the Department of Homeland Security (with whom, it seems safe to assume, he is not friendly), however, might prove a greater hurdle for his team. Bolder yet, Politico thinks that the book "may be one of the biggest gifts ever given to the opponents of a presidential candidate." It's no wonder Perry has taken to telling people, "I wouldn't have written that book if I was going to run for the presidency of the United States." We all have our skeletons, but Fed Up! only came out last year – in November – could he really not have seen this all coming?
According to Politico's Maggie Haberman and Alexander Burns, Perry's book poses real concern for the GOP hopeful. After reading the book and talking to a number of strategists, they report that, "Democrats and Republicans agree: There's little upside for Perry in a book that's chock full of incendiary statements about everything from entitlement programs to the Department of Homeland Security, to the Supreme Court."
The book, they say, is a 185-page "manifesto" that has a "strong ideological bent," but more worryingly, is written in "sharp language" that is "exquisitely suitable" for attack ads.
Perry, who has still yet to lay out a clear policy plan, must now decide if he wants to "embrace [the book's] contents and reaffirm a set of controversial, guaranteed-to-inflame views," or if he'd rather "back away from them and risk looking like a flip-flopper." Seems as if he's leaning towards the latter, and realizing that he F'ed Up when he wrote Fed Up.
Authoring a book of extreme ideology that takes jabs at federal programs and political figures from all over the field might have sounded like a fine idea for Perry, who had just secured a third-term as Texas's governor when the book was released. Working on a state level, it almost even makes sense that he would feel so strongly anti-Washington. This was all just a year ago, though, and while he's flipped and flopped in the past, it's hard to imagine how he could possibly turn away from the book so quickly.
Haberman and Burns have sought clarifications from Perry's campaign for some of the more radical statements made in Fed Up!, giving them the opportunity to spin the book into something more positive. The response — or lack thereof — could show if Perry has chosen to embrace the book, "sharp language" and all, or if he will simply move on from it.
Have a tip we should know? tips@mediaite.com