Colbert Fulfills Fan Request to Wear #BlackLivesMatter Wristband on The Late Show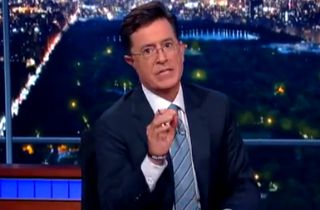 The #BlackLivesMatter movement's occasionally-controversial rhetoric has been met with mixed reactions from figures ranging from network news hosts to presidential candidates. However, it seems the movement has at least one sympathizer on TV: Stephen Colbert.
The Late Show host was reportedly asked to wear the bracelet reading "Black Lives Matter" as he was taking questions from the audience before last night's episode. Patrick Waldo, a New York-based performer and active member of the movement, wrote on Instagram that he was a long-time fan of Colbert's, and when called upon, he took the opportunity to ask Colbert to wear the wristband as a show of solidarity with the movement:
I told him I've been involved in the Black Lives Matter movement for the last year. I said "From one member of the ruling class to another," and he laughed and interrupted me and said "The ruling class? What do you rule? Because I rule this theater!" I said "You do! So I'm gonna put you on the spot right now and ask you to wear this Black Lives Matter wristband on the show, AND say Black Lives Matter at least once during the show because I think your audience needs to hear it!" He responded immediately, "Bring it to me" and then "But I make promises to no one!"
Waldo wrote that just before taping, Colbert joked about it by saying "this wrist band feels like it was made for someone with much bigger wrists than mine. I want to wear it around my neck like a lovely necklace." Colbert then promised Waldo that if he couldn't work it in tonight, he would in the near future.
As it turns out, Colbert wore the wristband throughout the night, which Waldo commended him on with a photo collage:
[h/t Talking Points Memo]
[Image via Screengrab]
— —
>> Follow Ken Meyer (@KenMeyer91) on Twitter
Have a tip we should know? [email protected]