Colbert To Dylan Ratigan: "It Occurred To You In 2008 That People Were Watching" CNBC?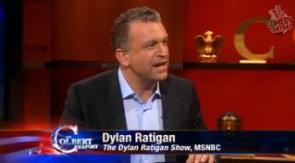 MSNBC host Dylan Ratigan was a guest on The Colbert Report – a show where the character Stephen Colbert plays despises MSNBC but probably agrees with a lot of Ratigan's more libertarian points of view.
But the most interesting exchange came as Colbert pressed Ratigan on his previous hosting gig – at CNBC's Fast Money, particularly before the 2008 collapse.
It started with a joke from Colbert: "Are you the guy who gets the facts, talking points from the White House everyday, or does that go straight to Rachel?"
But then he turned to CNBC. "I was hoping you hadn't seen that," said Ratigan. Then he tried to justify his advice on the program – particularly in light of his new type of show on MSNBC:
I very much enjoyed the conversation. I enjoyed hosting the program, I enjoyed working with the traders, those who, in that environment, were trying to figure out how to invest the money. And then we're all sitting there in 2008 and we watch as my mother's money that they're gambling with, in effect…
That's where Colbert cut in: "Wait, it occurred to you in 2008 that people were watching in that little box over there?…People do things based on my advice?"
Ratigan's move within NBCU, but also his move in tone, has been explained before. Last year to Michael Moore, he said, "When capitalism switched from who has the best ideas to who can bribe the government so we can steal taxpayer money, it made clear I wanted to make a move from a financial bias to a policy bias in journalism. "
There was also an exchange about how Ratigan believes the corrupt bankers are like Mexican drug dealers and whether Ratigan should get a non-Glenn Beck form of chalkboard communication ("shouldn't you have to get your own basic form of childish communication?"). Here's the interview:


—–
» Follow Steve Krakauer on Twitter
Have a tip we should know? tips@mediaite.com