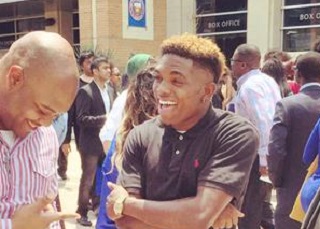 Christian Taylor, a college sophomore and defensive back for the San Angelo State University football team in Arlington, Texas, was shot and killed by police during an alleged robbery attempt.
According to the Arlington Star-Telegram, officers were sent to a car dealership when a third party security company noticed a suspect on the premises via exterior cameras. Police spokesperson Sgt. Paul Rodriguez told the paper that the company had dialed 911:
Rodriguez said police arrived to find that Taylor had used a vehicle to crash through glass in the front of the showroom.

"The officers went and confronted him. There was an altercation. An officer discharged his weapon and struck the suspect," Rodriguez said.

Taylor, who was pronounced dead at the scene at 1:47 a.m., was not armed, Rodriguez said.
The officer who shot Taylor, 47-year-old trainee Brad Miller, has been placed on administrative leave per department procedure for whenever deadly force is utilized in the field. Meanwhile, Rodriguez told reporters that two independent investigations of the matter — one criminal and the other administrative — were currently ongoing.
However, the truthfulness of what the officers present has already come under suspicion — mainly because footage of Taylor participating in "criminal activity" exists, while none shows the altercation nor the shooting that followed. Plus, while the department will soon be implementing a body camera program, none of the officers on the scene were wearing any.
There's also the matter than Taylor has no history of major criminal activity. He was "sentenced to six months' deferred-adjudication probation" in December 2014 after a September 2013 traffic stop, during which he was found to be in possession of 11 hydrocodone tablets without a prescription. Otherwise, Taylor's record is clean.
Watch the report from USA Today:
UPDATE – 5:00 P.M. E.S.T Taylor's family and online commentators have quickly voiced their reactions to what some are calling suspicious circumstances surrounding his death.
R.I.P #ChristianTaylor he tweeted that he didnt want to die too young, an that he doesnt feel protected by the police, and this happens

— IG: JPFATUNI (@JPFatuni) August 8, 2015
Is this some sick dream? We are talking about the POLICE!!! Restoring order is the main priority, not the other way around #ChristianTaylor

— Milad Shamoun (@MiladShamoun) August 8, 2015
Might go to Arlington to protest because that was a wrongful death of promising young football player. Rest in paradise #ChristianTaylor 🙏🏾

— Owweee Bam Bam (; (@WeHate_BamBam) August 8, 2015
Dont get me wrong not all cops are evil. But when the fuck will these piece of shit pigs be brought to justice??? #ChristianTaylor

— Rox Vazquez (@RoxVazquez215) August 8, 2015
The audio of the dispatch #ChristianTaylor
http://t.co/9alkCK3Zbj

Wow. All I can say..wooow

— YEE† (@FashionsLEGIT) August 8, 2015
I just listened to the police audio Wow. If only #ChristianTaylor was a Lion then this would be getting more attention.

— Natalie (@N2c2d) August 8, 2015
Black ppl dying by hands of police is an epidemic at this point that's the difference #ChristianTaylor #BlackLivesMatter #AllLivesMatter

— JUST_BRITAIN (@thatgrandPRINCE) August 8, 2015
The Star-Telegram reported that Clyde Fuller, Taylor's great uncle said that "something doesn't sound right" about the police's account. Fuller went on to describe Taylor as a good kid, and that he thinks "something is going on that somebody is lying about."
MSNBC also reported on the incident, pointing to several tweets from Taylor's account. Amongst Taylor's tweets about religion, expression and self-improvement, some suggest that Taylor was concerned about dying young, while other tweets his thoughts about how police brutality has been responsible for the death of Michael Brown, amongst others: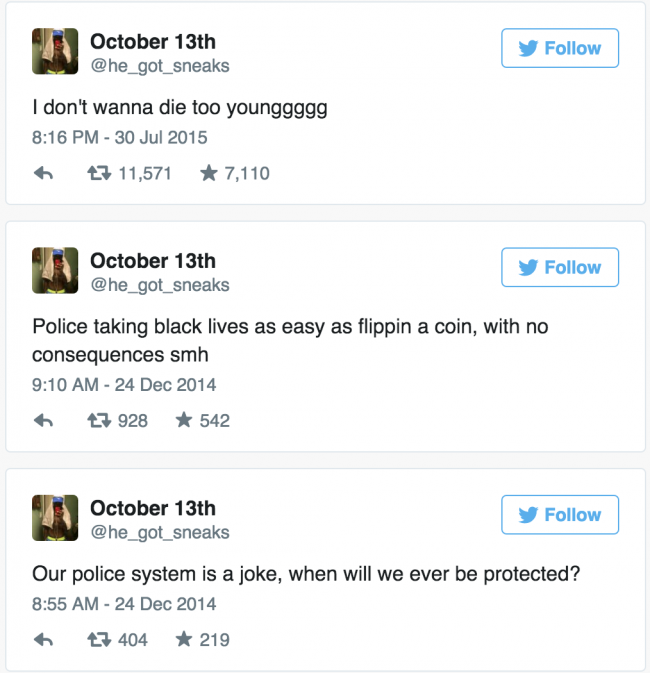 — —
>> Follow Andrew Husband (@AndrewHusband) on Twitter
Have a tip we should know? tips@mediaite.com