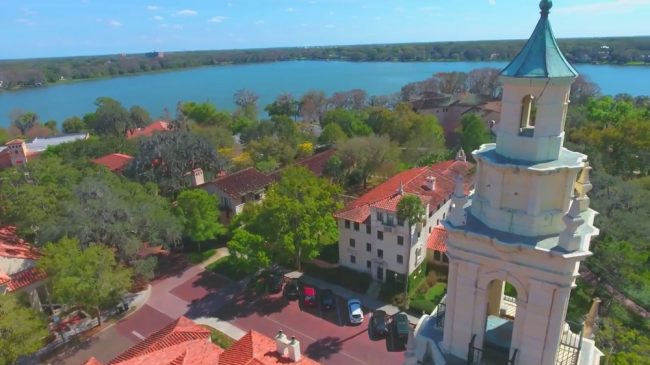 Rollins College in Winter Park, Florida suspended Marshall Polston after he challenged his Muslim professor over her claims about Christianity, according to a March 25, 2017 item on the website Central Florida Post.
The controversy, which has been picked up by multiple conservative websites, started when Polston challenged Professor Areeje Zufari over her "assertion that the crucifixion of Jesus was a hoax and that his disciples did not believe he was God." The student claimed that after this confrontation, Zufari "promptly failed him on a major essay and refused to provide input as to why she issued a 52% grade for the essay."
The faculty member escalated the issue after she reported Polston to the college's office of campus safety for "making her feel 'unsafe.'" She even sought the advice of the local chapter of the ACLU over her student's "hate speech."
The campus safety department interviewed the student and told him he was facing "probable suspension," since he was supposedly "making Rollins College 'unsafe' because of his difference of opinion with Professor Zufari."
Rollins College's dean of students sent Polston a suspension letter on March 24, 2017. The letter contended that the student's "actions have constituted a threat of disruption within the operations of the College and jeopardize the safety and well-being of members of the College community and yourself." He was forbidden from attending classes, campus activities, and from having contact with the professor.
Zufari also filed a police report against Polston for allegedly violating this order, according to the Central Florida Post account. The College Fix website obtained a copy of this police report, and included it in their Monday article on the controversy:
Student ______ stated to me that she looked out the back glass door of the classroom and saw Mr. Polston staring into the room. He briefly stopped then proceeded on his way. Campus safety was immediately notified and responded at 19:36 hours. A search was conducted but Mr. Polston was not found. Ms. Zufari's students were upset and did not feel comfortable being in the class. Ms. Zufari dismissed her class early at 20:07 hours.
However, Polston stated that he was nowhere near the campus on that day, and provided a video still from a restaurant visit to back up his claim. He decried his former professor's conduct against him: "I will be releasing witness statements shortly proving I could not have been where Professor Zufari said I was Thursday night. It's shameful that she lied to the police."
[image via screengrab]
Have a tip we should know? tips@mediaite.com