Columbia Univ. Suspends Wrestling Season After Discovery of Racist, Sexist, and Homophobic Texts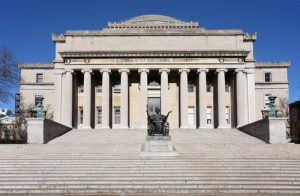 Columbia University has suspended its wrestling team's season over a series of racist, sexist, and homophobic text messages written by team members which were published to Bwog — a student run campus news site.
According to the AP, the University commented in a statement, which said: "The Department of Athletics has decided that Columbia wrestlers will not compete until we have a full understanding of the facts on which to base the official response to this disturbing matter."
The texts were posted to the GroupMe messaging app. According to The New York Times, Bwog published the messages after receiving them from an unnamed source.
"They were sent to us by an anonymous tipster who felt this conversation had no longer become entertainment," said James Fast, the publisher of Bwog.
The messages include discussion of the unrest in Ferguson using racial slurs, as well as a number of homophobic and sexist messages. The Times report adds that other messages were not published because they targeted specific students.
The Columbia wrestling team suspension comes on the heels of Harvard canceling its men's soccer team's season over a lewd "scouting report," in which they evaluated the sexual attractiveness of freshman recruits on the women's soccer team in explicit terms.
The Times reports that the team is still practicing, which could mean that they will be allowed to compete again once the school has concluded its investigation.
The team was scheduled to compete at the New York State Championship at Cornell on Sunday, but the status of the team's participation is now up in the air.
[image via Pete Spiro – Shutterstock.com]
–
Follow Joe DePaolo (@joe_depaolo) on Twitter
Have a tip we should know? tips@mediaite.com
Joe DePaolo - Senior Editor