Comedian Says He Was Fired From Longtime Gig For One Reason: 'Because I Am a White Man'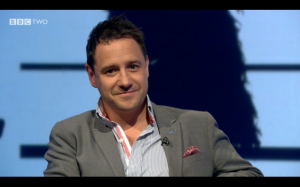 Comedian Jon Holmes says his tenure with a radio show was nixed because, to put it bluntly, he's a white male in an increasingly diversity-focused world.
Holmes, who has appeared on BBC Radio 4's The Now Show for 18 years, was notified of the move by the powers-at-be who were seeking to recast the show, "with more women and diversity".
Sad to announce I've been axed from @BBCNowShow as 'we want to recast with more women and diversity' Tsk. And I didn't even punch a producer

— Jon Holmes (@jonholmes1) September 26, 2016
The punch-a-producer quip comes at expense of Top Gear host Jeremy Clarkson, who famously punched his producer before referring to the man as a "lazy Irish."
Holmes wrote an op-ed on his firing Sunday, writing in-part:
"Should I, as a white man (through no fault of my own), be fired from my job because I am a white man?

"I mean, I know it's a big ask and yes we'll have to agree to draw a line under much that has gone on before, but what if we're all just 'people', judged on merit? Call me crazy but what if, regardless of skin colour, or anything else, the best candidate gets the job?

"I'm not even asking for mine back. That's not the point. I just wonder, what with all the pressure about being seen to 'get it right', we're actually getting it a bit wrong."
Crikey, Twitter. You've had a busy day. To be clear, I'm not "claiming" it. I simply pass on exactly what I was told in the BBC phone call. pic.twitter.com/i6D8QdBGlU

— Jon Holmes (@jonholmes1) October 2, 2016
According to the Telegraph, Holmes is a highly-decorated host and show creator who has taken home two Baftas and eight Sony Awards in addition to two British Comedy Awards. He revealed that the move from BBC comes amid its diversity initiatives, which look to have half of its workforce be comprised of females by 2020 while increasing the percentage of people of color on staff to 15%.
A spokesperson for the BBC said in response, "While the Government's new charter for the BBC does set us diversity targets, we always hire presenters on merit. We'd like to thank Jon Holmes for his contribution, but our comedy shows are constantly evolving and it was simply time to create opportunities for new regulars when The Now Show returns this autumn."
[h/t The Telegraph]
[image via BBC 2 screengrab]
Have a tip we should know? tips@mediaite.com