Comedy Central Gets Back In The Sketch Game With Nick Swardson's Pretend Time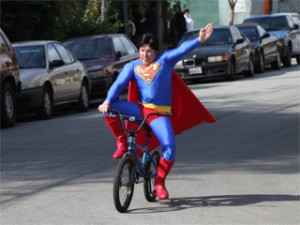 As a fan of sketch comedy, it's always seemed strange to me that a channel called Comedy Central didn't produce more sketch shows. Sure, they've run old episodes of all the past greats but, asides from Chappelle's Show and Exit 57, there hasn't been much in the way of original sketch. That's certainly changed in the past year or so with last year's Important Things with Demetri Martin and the upcoming This Show Will Get You High. Mediaite was invited to check out the pilot of their latest, Nick Swardson's Pretend Time, which premiered this week, and, while it wasn't perfect, it definitely shows promise.
Like Important Things, the new series is based around a popular comic, this time Nick Swardson. Swardson will be familiar from his stand up specials as well as his appearances in a number of Happy Madison Productions films. Happy Madison is Adam Sandler's production company and, if I had to describe the new show's comedy style, I would describe it as a Sandler film meets Human Giant. The Human Giant feeling is understandable considering Pretend Time was co-created by Swardson and Tom Gianas, one of the executive producers of the earlier series (one of the best sketch shows of the last decade). In fact, my favorite sketch in the episode we were shown featured a cameo by Human Giant's Rob Huebel making it, I believe, the third series he appeared on in the past week.
So, what's the show like? Well, now that I've gotten the comedy style out of the way, there are three easy ways to differentiate a sketch series: Is it performed with an audience, how does it segue between sketches, and is it funny? The answers are no, it connects the sketches by simply fading into some kind of screen (security camera, iPhone, etc.), and it varies between fairly funny and very funny. While some sketches have a great dark humor, others don't quite work (just because "Prius" rhymes with "Pee-us" it doesn't mean that's enough to hang an entire sketch on). Still, there was enough genuinely good stuff in the episode we saw and Swardson and his ensemble are all entertaining and appealing enough that I would definitely say you should give it a try.
Here's a sketch from the pilot:
Have a tip we should know? tips@mediaite.com