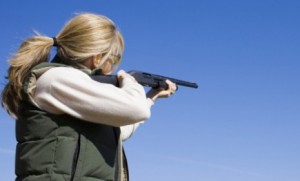 Do you love Miss America, but wish the pageant featured more assault rifles? If so, start getting pumped for Miss Liberty America, a pageant that will give "America's elite feminine patriots" the opportunity to show off their "patriotism, intelligence, talent, beauty"—and sharp-shooting.

From Mother Jones, via The Week: Miss Liberty America is a beauty pageant in which conservative women will be evaluated "on marksmanship (rifles and pistols only), CPR, fitness, and knowledge of the Bill of Rights and the Declaration of Independence." Its winner will receive $10,000 in cash, a college scholarship, and—the coupe de grace—a lifetime membership to the National Rifle Association. It's currently scheduled to be held on July 4, 2012.
Though Tim Murphy of Mother Jones originally referred to Miss Liberty America as "the first-ever Tea Party beauty pageant," the pageant's founder, Alicia Hayes-Roberts—who, believe it or not, is the sister of the amazingly-named Rutherford B. Hayes, a man who may be the Tea Party's 2012 presidential candidate—told Murphy that he was mistaken. In an email, Hayes-Roberts said that the competition and the political movement are unaffiliated. "We don't want to be associated with that," she said. "We're a corporation, we are a for-profit operation, and I can't have that."
In other words, according to Murphy, "Being tagged as a Tea Party operation might be bad for business."
It's impossible to say what will have become of the Tea Party by the summer of 2012, so rejecting Murphy's label seems like a smart move on Hayes-Roberts's part. She also says that she's hoping to promote diversity with her pageant—the judging panel "will consist equally of African American, Caucasian, Hispanic, and Asian judges to more closely represent America"—and that she intends Miss Liberty America "to bring people together, not separate people. And there are some organizations that do nothing but segregate people." She sounds like she's got a good head on her shoulders, though obviously, her pageant will alienate some people: those who favor stricter gun control laws.
Read more about the contest at The Week and Mother Jones.
Have a tip we should know? tips@mediaite.com