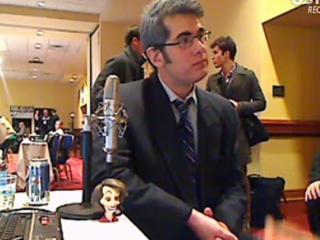 Word on the street is that Keith Olbermann has a fair amount of time on his hands until he begins his new gig at Current TV. Looks like "Keith" took a break from his preparations to give an interview to Breitbart.tv's Larry O'Connor to discuss his future, mingling with conservatives, and the new version of "Worst Persons."
"Olbermann" (actually comedian Steven Crowder) was happy to sit down with O'Connor, he explained, because he "believes in voices of dissent"– except "on my show." He thanked the CPAC attendees and noted that he was "very grateful that the conservative racist constituency has allowed me here and I look forward to working with them in the future. Mostly berating them." When asked about his new job, faux-Olbermann grew enthusiastic, particularly excited about being on "the information superhighway" AKA "the interwebs." He then painfully provided viewers with the full URL to CurrentTV.com– "http://www– let me finish this– .currenttv.com." "That's a very thorough URL," O'Connor added somewhat feebly.
The interview didn't get any better– "Olbermann" begins to plug Maybelline products, suggests everyone at CPAC lives in a trailer, and ultimately refuses to shake O'Connor's hand (perhaps O'Connor will be the inaugural "Person of Whom I Disapprove.") He is also shocked by O'Connor's affiliation with Andrew Breitbart, which seemed to elude him despite the fact that the venue for which he was interviewing is called "Breitbart.tv"– though, to be fair, this Olbermann seems not to have what one could call extraordinary computer skills.
How it took this many years for someone other than Ben Affleck to adopt the larger-than-life Olbermann roles seems a mystery, but Crowder's take– and, particularly, vocal intonations– are quite impressive. The interview via Breitbart.tv below:
Have a tip we should know? tips@mediaite.com