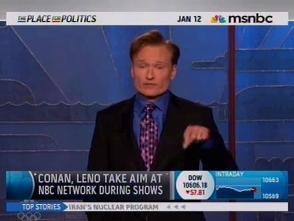 Well this is huge. Conan O'Brien has announced he will not host The Tonight Show as NBC had wished – at 12:05amET.
But O'Brien is not going quietly, or, notably, through the NBC public relations chain. Here's some of the very revealing letter.
The New York Times has the full letter:
After only seven months, with my Tonight Show in its infancy, NBC has decided to react to their terrible difficulties in prime-time by making a change in their long-established late night schedule…
Last Thursday, NBC executives told me they intended to move the Tonight Show to 12:05 to accommodate the Jay Leno Show at 11:35. For 60 years the Tonight Show has aired immediately following the late local news. I sincerely believe that delaying the Tonight Show into the next day to accommodate another comedy program will seriously damage what I consider to be the greatest franchise in the history of broadcasting. The Tonight Show at 12:05 simply isn't the Tonight Show. Also, if I accept this move I will be knocking the Late Night show, which I inherited from David Letterman and passed on to Jimmy Fallon, out of its long-held time slot. That would hurt the other NBC franchise that I love, and it would be unfair to Jimmy…
My staff and I have worked unbelievably hard and we are very proud of our contribution to the legacy of The Tonight Show. But I cannot participate in what I honestly believe is its destruction. Some people will make the argument that with DVRs and the Internet a time slot doesn't matter. But with the Tonight Show, I believe nothing could matter more.

There has been speculation about my going to another network but, to set the record straight, I currently have no other offer and honestly have no idea what happens next. My hope is that NBC and I can resolve this quickly so that my staff, crew, and I can do a show we can be proud of, for a company that values our work.
Needless to say, this is enormous news. All cable networks are covering it like a breaking news story, including, uncomfortably, MSNBC.
A lot more to come. A lot. Get ready.
> Update: Here's video of MSNBC discussing the breaking news:


—-
» Follow Steve Krakauer on Twitter
Have a tip we should know? tips@mediaite.com