Why Is The Daily Beast Continuing The False "Roger Ailes Out At News Corp." Storyline?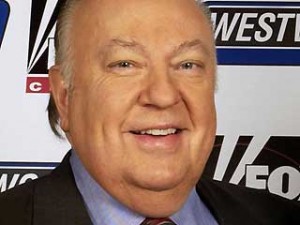 The New York Times lengthy, largely-positive Sunday profile of Fox News Chairman Roger Ailes has gotten a lot of attention from around the media (including here).
But the one major element that was negative – a quote from Rupert Murdoch son-in-law Matthew Freud – has been the focal point of two Daily Beast columns in the past three days. There may be a reason.
Today Lloyd Grove writes a Daily Beast column headlined "Is Ailes Finished at Fox?" which raises the rather shocking question over whether Roger Ailes could be fired for essentially one-upping his boss, Murdoch (here's his previous column). The story is based on quotes from two "insiders" and a former News Corp. employee who left the company on "bad terms" with Murdoch. But mainly, it revolves around the quote from Matthew Freud ("I am by no means alone within the family or the company in being ashamed and sickened by Roger Ailes's horrendous and sustained disregard of the journalistic standards that News Corporation" it read in part), which Murdoch's News Corp. shot down immediately after the Times story went up. Grove's insider says, "Rupert picked up his Times at the breakfast table, saw the story above the fold with the big photo of Roger, and probably choked on his coffee," but the timeline doesn't work – Murdoch had weighed in on the substance of Freud's comment long before the print version appeared Sunday morning.
We asked News Corp. for comment on Grove's latest column. "It's completely ridiculous," said a spokesperson.
There could be another reason why The Daily Beast is driving this one storyline. Freud is the head of Freud Communications – which happens to be the PR agency of The Daily Beast. No other News Corp. rogue employees are talking about an Ailes exit – they only seem to show up on The Daily Beast. In the first column, it was "a source close to Freud" who targeted Wendi Murdoch, Rupert's wife. Both Beast columns make it sound like Freud and those close to him have some information about the inner workings of News Corp., but there's no other proof that it's anything more than wishful thinking on his part.
> Update: Freud continues to list Daily Beast as a client on their website. But PR Week writes HL Group "absorbs" Freud New York in February 2009. The HL Group now represents Daily Beast, and Freud is no longer involved with the company.
Even the language of Grove's column today raises suspicions. Describing Freud's NYT quote, he writes, "[Freud] is apparently speaking for Murdoch's 41-year-old daughter Elisabeth, a former News Corp. executive who owns a television production company, and 37-year-old James Murdoch, chairman and chief executive of News Corp.'s European and Asian operations and his father's heir apparent." How exactly is Freud "apparently speaking for" anyone? And when insiders use words like "probably" or "theorizing" there's a good chance they actually have no idea.
The truth is, News Corp. isn't getting rid of Roger Ailes. Why would they? It's a business – and as has been proven time and time again, Ailes and Fox News are great business.
—–
» Follow Steve Krakauer on Twitter
Have a tip we should know? tips@mediaite.com