Concha: Lizz Winstead Hilariously Blames Wendy Davis' Struggles on Texas 'Redistricting', Media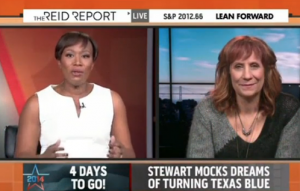 Three days from now, some names and faces we've unfortunately come to know will vanish from the public eye, perhaps forever. Some will be missed, especially for the wrong reasons. In the case of conservative media in this regard, the leader of the pack is Texas Democratic Gubernatorial candidate Wendy Davis…this election season's version of Christine O'Donnell.
As noted by MSNBC's Joy Reid on her program Friday, Ms. Davis trails Republican Greg Abbott by 15 points. And as you may have heard, the Davis campaign has been one craptastic gaffe after the other, highlighted (or lowlighted) by one ad accusing Abbott–who is paralyzed from the waist down and confined to a wheelchair–of being a hypocrite for allegedly being apathetic about those also disabled after becoming a paraplegic 30 years ago. The ad was met with scorn even from liberal circles but the campaign never backed away from it. Davis has also attempted to play the race-card by declaring Abbott was opposed interracial marriage despite, you know…being married to a Mexican woman.
Enter Lizz Winstead–the co-creator of the Daily Show. If you recall, this is the same Winstead who mocked Oklahomans after a devastating tornado killed 24 in the town of Moore, including ten children (two of them infants) by tweeting the following:

After overwhelming blowback, she would later apologize, but that has never stopped her from being booked to share her expert political opinion on the Lean Forward network. How much of an expert? In the words of Carol Costello, this is quite possibly the best minute and a half of audio we've ever come across. Well, come across in a long time anyway. So sit back and enjoy…
REID: Lizz, you have a new poll showing that Wendy Davis is trailing Greg Abbott by substantial margins, 32 to 47. You have an organization Lady Parts Justice that's really trying to push on these issues of reproductive justice. Why do you suppose that Wendy Davis, who came to fame on those very issues, is doing so poorly?
WINSTEAD: You know, I don't — I think part of it is that redistricting is redistricting. And Texas, I think, can turn blue. I mean, let's not forget that 20 years ago Texas had a female governor, who was an admitted alcoholic and a divorcee who was a progressive. So, I don't think that the dinosaurs were walking the Earth back then. But I do think that with Texas, the media has a lot to do with it. I think that there is just so much going on with the way that reproductive justice has become an issue that is big, but in a state as big as Texas, there are so many other issues, and they just don't have the information and the media on their side.
So for those a little behind the curve on gubernatorial matters, the basic process goes like this: Residents of the state who are registered to vote cast said votes in various forms, but mostly on election day. From there, all the votes from across the state are counted–and this is important–regardless of district…and whomever has the most votes wins. The end.
Of course, Reid didn't bother challenging her 53-year-old guest on the redistricting thing, instead opting to moving on to a question she had likely planned to ask the moment Winstead began her answer to the previous one. By doing so, Reid also ignored her guest blaming the media for having it in for Davis. In a related story, the largest newspapers in three of the four most populous cities in Texas have officially endorsed Davis, a list including the Houston Chronicle, San Antonio Express and Austin American Statesman. But if you were to believe Winstead, Davis would be competitive if not for a right-wing media conspiracy.
Thankfully, not many people actual witnessed this segment if the third quarter ratings report is any indication, where Ms. Reid averaged 239,000 total viewers. For context, HLN's Forensic Files–a program that has ceased to exist outside of reruns since 2011–averaged 258,000, while Fox's Happening Now averaged 1.2 million.
Come Tuesday night, the grand idea that is Wendy Davis will cease to exist politically (perhaps until the next election, anyway). She will be missed by some. Meanwhile, the Reid Report became a bad version of the Daily Show in attempting to defend her.
The seals in the studio audience may have been missing, but the big punchline was delivered in the form of its former co-creator.
— —
Watch the segment below, via MSNBC:
— —
>>Follow Joe Concha on Twitter @JoeConchaTV
Have a tip we should know? tips@mediaite.com