Concha: Mayor de Blasio Blames Media for NYPD Divide; Forgets to Look Inward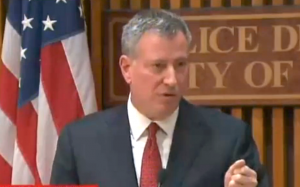 There's likely no politician on the planet who is more relieved that 2014 is coming to an end than one Bill de Blasio.
Because it's hard to find anyone having a worse year on a big stage than him.
Upon being inaugurated as New York's 109th mayor back in January after capturing an astounding 72 percent of the vote, Mr. de Blasio was exposed for being in way over his head just weeks after taking office.
In February, there was a local CBS News crew catching his caravan moving well over the speed limit and blowing through two stop signs on Thursday afternoon (there was no emergency at the time). This wouldn't be such a big deal… except de Blasio had very publicly unveiled a huge traffic safety initiative just days earlier. The fun continued a few days later during a trip to Brooklyn, where a New York Post reporter photographed him jaywalking. Again, this wouldn't even remotely be news if not for the new mayor relentlessly going after jaywalkers by increasing tickets by 275 percent from the previous year under then-Mayor Mike Bloomberg.
Then there was his decision that same month to send kids to school on a day the entire city was essentially shut down due to the weather. Said decision was so roundly criticized, even Al Roker took him to task on Twitter all the way from Sochi, Russia (which alone created such a firestorm the mayor was forced to respond). During a previous blizzard, he was accused of instructing crews to not plow the streets of rich neighborhoods in Manhattan, which were snowed under for days. De Blasio also vowed to eliminate the city's controversial carriage horse industry before running into the brick wall in the form of actor Liam Neeson, who was so effective is rallying support for the industry that the mayor has put it on indefinite hold. The press also began to turn on him quickly for ducking questions at pressers and perpetual tardiness.
Not major stuff on an item-by-item basis, but as the saying goes, "Shavings make a pile."
The initial impressions were so horrific and piled up so quickly–think the Johnny Manziel of politics–that the mayor's numbers went from the aforementioned 72 percent of the vote in November to a 45 percent approval rating in March. That's a 27 percent drop in the matter of two months, which has to be some kind of unofficial record for a Democratic mayor in a town where Democrats outnumber Republicans six-to-one.
A poll taken earlier this month by the same firm–Quinnipiac–currently has him at 47 percent approval. The same poll–taken before the execution of two police officers on Saturday in Brooklyn–found that 56 percent of New Yorkers disapprove of how he has managed ties between the NYPD and the city, which was a central campaign promise of his first year in office.
Which brings us to the mayor's comments today, which would be hilarious if they weren't so sad…
When asked about protesters' criminal behavior in some cases against police, de Blasio shot back at the reporter who dared to ask such a question, retorting, "What are you gonna do? Are you gonna keep dividing us?" He then went on to say the media has chosen to ignore the story of peaceful protests and only focused on those causing trouble… all before pointing the finger at reporters again for aiding and abetting a divide. "That's how you want to portray the world but we know a different reality," he said.
So de Blasio blames the media for dividing the city. Of course, that means the same media compelled him to share this touching story–at the height of the Eric Garner protests, mind you–about warning his teenage black son's for years growing up about the risks he may face if encountered by police.
"Chirlane and I have had to talk to Dante for years about the dangers that he may face – good young man, law abiding young man, never would think to do anything wrong, and yet because of the history that still hangs over us, the dangers he may face," de Blasio explained. "We've had to literally train him, as families have all over this city for decades, in how to take special care in any encounter he has with the police officers who are there to protect him."
"I've had to worry over the years. Chirlane's had to worry," he continued. "Is Dante safe each night? There are so many families in this city who feel that each and every night. Is my child safe?… Are they safe from the very people they want to have faith in as their protectors?"
Again, the Mayor was under no obligation to offer up a perspective he knew would anger about 99.9 percent of the NYPD. He wasn't misquoted, taken out of context or tricked into sharing it. And the consequence now is the permanent divide he created between the NYPD and him. You can't simply say you were worried for years if your son was safe from his protectors (the NYPD) and not expect the kind of greeting de Blasio received on Saturday when police turned their back on him–literally–upon his arrival at a press conference on Saturday after those assassinations of two protectors in Brooklyn.
No matter. The mayor simply wants you to believe the media is the reason his police force no longer respects him, no longer even wants him at any police funeral for the rest of his likely one-and-done tenure.
He came into the year on the heels of a landslide victory. But with his allies dwindling and public support likely to dip drastically again, a mayor turns his eyes to the only target left to blame besides himself:
The media.
Watch de Blasio's remarks about the media below, via CNN:

[image via screengrab]
— —
>>Follow Joe Concha on Twitter @JoeConchaTV
Have a tip we should know? tips@mediaite.com