Concha: NY Times Has Sent Advance Copies of Dowd Columns to Subjects Before — All Without Repercussions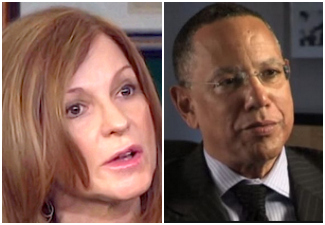 As you may have heard or read about here, Maureen Dowd has really stepped in it over allegedly breaking one of the hard and fast rules of journalism: Showing the subject of an interview an advance copy of a column. And now it turns out this may not have been the first time the New York Times or Dowd has engaged unethically in this regard.
Quick review of the current situation: Buzzfeed first reported that an email written by Ms. Dowd revealed she allowed Bernard Weinraub–a former Times reporter–to preview a column written about his wife–embattled Sony exec Amy Pascal–before it was published. Said emails also show Dowd assuring Pascal through Weinraub that "I would make sure you look great," among other air kisses. In a statement to Mediaite, Dowd later denied sharing the column, which flies in the face of this stubborn quote from Weinraub, where he writes, "You cant tell single person that I'm seeing the column before its printed." Despite that, Weinraub–when contacted by Buzzfeed –said he had no idea what they were talking about. This circus is all courtesy of alleged North Korean hackers, who ironically reside in a communist country that offers nothing outside of state run media.
Thus far, New York Times executive editor Dean Baquet has yet to comment on the topic or hand down any disciplinary action. But here's betting he won't, since Baquet and Dowd have a history of brushing these sort of allegations aside as much ado about nothing.
How so? Well…back in August of 2011–when Mr. Baquet was the Times Managing Editor–CIA Records obtained by Judicial Watch revealed that an advance copy of another Dowd column was forwarded to a CIA spokesperson whose name you may recognize today (Marie Harf, who is now the State Department's outspoken deputy spokesperson). Note: Dowd herself didn't send the copy directly, as that part was handled by Times reporter Mark Mazzetti. It is still not known whether Dowd asked Mazzetti to do so.
To review, Dowd's column pertained to the Kathryn Bigelow movie, Zero Dark Thirty, which is primarily about the legwork behind the eventual killing of Osama bin Laden. Dowd had written an op-ed ready to be published two days later that was critical of the Obama Administration having "outsourced the job of manning up the president's image to Hollywood."
But according to Judicial Watch, after obtaining the email files via a formal Freedom of Information Act request, Mazzetti sent Harf an advance copy of Dowd's column, and also wrote the following:
"This didn't come from me… and please delete after you read. See, nothing to worry about!"
Whoops…Ms. Harf obviously didn't follow Mazzetti's instructions and didn't delete that email. In a related twist of irony, Mr. Mazzetti has covered national security for the Times' Washington bureau since 2006. Enter Politico –which Baquet called at the time (instead of, you know…the publication that broke the story) to clarify what had happened. As you'll see, his explanation was as clear as mud:
"I know the circumstances, and if you knew everything that's going on, you'd know it's much ado about nothing…I can't go into in detail. But I'm confident after talking to Mark that it's much ado about nothing. The optics aren't what they look like…I've talked to Mark, I know the circumstance, and given what I know, it's much ado about nothing."
In other words, here's what Baquet was really saying: "Look, I know the Mazzetti email is without ambiguity and looks really bad. But I'm not going to share anything specific regarding my so-called internal investigation. All you really need to do is trust me…there's nothing to see here." A Times spokesman would later say a "mistake" had been made and the advance copy was only sent in an effort to "help fact-check the column." Or something.
Of course, why Mazzetti had access to an op-ed column that wasn't his (outside of fact-checking, which isn't his job) and why if he even sent it to Harf is still a mystery. And also of course, Mazzetti wasn't disciplined by Baquet or then-executive editor Bill Keller–who loves hearing his own voice pontificating about ethics to anyone within 50 feet holding a microphone–in any capacity as well. Baquet has since been promoted to executive editor after Jill Abramson's abrupt firing earlier this year.
In other words, it's just another day at the office at the Titanic Times, where accountability is as foreign a concept for bosses like Baquet as truth is for Dowd…who even after being caught with her fingerprints all over a smoking gun…still insists on insulting everybody's collective intelligence by saying she didn't forward an advance copy of a story that she so clearly did.
It's now been about 24 hours since the Dowd/Weinruab email was revealed. And we still haven't heard a sound out of Baquet, the executive editor of a publication some still somehow believe offers the finest journalism out there.
It's just so fitting that the North Koreans–who have no freedom of the press–exposed the secretive way business gets done at the Old Gray Lady.
*Note: I have reached out to the parties for comment, If comment is received the column will be updated.
— —
Follow Joe Concha on Twitter @JoeConchaTV
Have a tip we should know? tips@mediaite.com