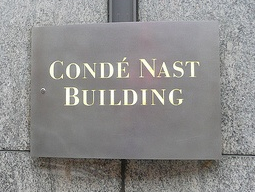 The Observer's John Koblin reports that the headline coming out of a recent publisher's lunch hosted by Condé Nast President Chuck Townsend? Your magazine must make a profit! Shockwaves soon rippled throughout 4 Times Square as everyone was quick to wonder: which of the well-heeled titles are currently profitable and who should be polishing off their resumés?
With McKinsey consultants already infesting the hallowed halls of Condé Nast, word is starting to spread on how the publishing giant will evolve in the new "post-McKinsey" era. From The Observer:
According to people present, Mr. Townsend barely acknowledged the email he sent out last week announcing McKinsey's recruitment, which initially sent Condé Nast staffers into a full panic. Mr. Townsend told publishers that the McKinsey process was just beginning, and as more information becomes available, he will share it with them.

Translation: Even his closest colleagues, his publishers, are being shut out of the process.

Mr. Townsend, however, did make one comment that seemed to ring out especially loudly to publishers in the room (and echoed among the staffers who heard it later): "We have to run profitable businesses," he said, when explaining McKinsey.

Hardly a novel thought, but for Condé Nast, and for Mr. Townsend, it was out of the ordinary. Way out.

"He's never commented about profitability in a public setting," said one attendee. "That's rarely a discussion."

Probably because making money has always been a given. In the past, staffers said, you'd hear Mr. Townsend say some variation of: We have emerging titles, we have developmental titles, we have established titles and we support them all. A growing business has emerging brands, and in order to grow, we need to develop new products.
Rumors have been swirling around publishing circles that there are only five profitable titles currently being published under Condé Nast. Our best estimate of which titles are in the black? Glamour, Vogue, Brides, Vanity Fair and GQ (though this is only a guess). The New Yorker is probably also safe as a fortnightly (instead of a weekly) … but the rest of the titles are in for a rocky few months.

Have a tip we should know? tips@mediaite.com