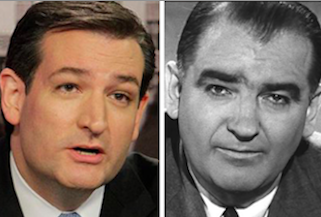 Typically, when a politician gets compared to the late Sen. Joe McCarthy it's not a compliment. But in a new column for right-wing website WND, conservative radio host Barry Farber uses the analogy for Sen. Ted Cruz (R-TX) to make a point about how "brilliant" he is.
The column, titled "Why They're After the Brilliant Ted Cruz," examines the "other-wordly" reaction the Texas senator provokes. "When's the last time a political figure drew such volcanic excoriation from left and right?" Farber writes. "Sen. Joe McCarthy drew it from the left. Sen. George McGovern drew it from the right. The hostility pattern that forms around Sen. Ted Cruz is rare, if not unique. It's almost as if there's a secret treaty among beltway insiders that deals with crowd-pleasing upstarts like Ted Cruz."
Farber does stop short of positively comparing Cruz to Adolf Hitler, writing, "I fully understand decent people who perpetually fear successful right-wing extremists. The story of Hitler keeps coming to mind. This is precisely where Sen. Cruz's trajectory calls upon us to use some intelligence of our own. Yes, there was a Hitler. We are properly alerted to the danger of a demagogue sweeping aside all opposition and raking in all the political chips on the table."
Instead, Farber highlights other, decidedly less genocidal revolutionaries. "Look at Poland's Lech Walesa; Czechoslovakia's Vlacav Havel," he writes. "Much to praise, nothing to fear."
One commentator on the other side of the political spectrum who has a tendency for comparing Cruz to McCarthy is MSNBC's Chris Matthews, who began making the analogy back in June after the senator's history of labeling his Harvard professors "communists" was revealed. The MSNBC host has also noted the "black Irish" physical features shared by the two men. Of course, in Matthews' case, the comparison is not meant to be a good thing.
[h/t RWW]
[photo via screengrab]
— —
>> Follow Matt Wilstein (@TheMattWilstein) on Twitter
Have a tip we should know? tips@mediaite.com