Conservative Former SNL Star Victoria Jackson Deletes 'White History Month' Article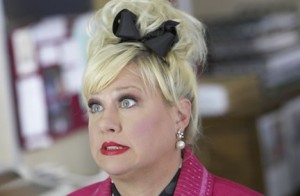 Former Saturday Night Live star and current conservative celebrity Victoria Jackson has made a second career as a mascot for deranged opposition to President Barack Obama that includes calls for secession, statistical analyses of the white baby population, and comparing America to The Big Bopper on Election Night, but it looks like restraint has finally gotten the better of her. Wonkette's Rebecca Schoenkopf called Jackson out earlier today for posting an article suggesting that the persecuted, underrepresented White Christian Male needs some scale-balancing, asking "Why is there a Black History Month but not a White History Month?"
Jackson also featured a video that lists "Things To Thank White People For," which curiously did not include Baywatch (but does include "recorded music" without noting that black people invented all of the good recorded music) and listed some white accomplishments, on her own, for the ungrateful non-whites who control everything:
Just for the record, white men invented rockets, space travel, airplanes, the automobile, the English language, the U.S.A., most medical advances, electricity, television, telescope, microscope, Ivy League Universities, the computer, the Internet, and on and on. I think white men should be praised and respected. White Christian Conservative Men especially, should be loved and adored. They were the backbone and originators of the greatest nation on earth. We need more of them now.
I'm pretty sure that rockets were invented by Chinese people, and Ivy League Universities aren't really inventions, and the first man to give his life for this country was black, and since black people did help out with that whole syphilis thing, maybe medical advances aren't a fair example, but point taken. White people rule. That is the point, isn't it?
She went on to invoke the timeless mystery that has befuddled loud drunk guys at bars, named Imnotta Racistbut, <"href="http://en.wikipedia.org/wiki/Black_History_Month">since 1976:
I wrote a uke(lele) song called "White Men Are Good" and sang it at a comedy club about 4 years ago. I could feel the audience tense up. Why? Why is there a Black History Month but not a White History Month? Now, that the white race is becoming a minority in America, perhaps we need to make…say, January, White History Month.
Since Wonkette's piece went up, however, Jackson has apparently deleted the article. Some might see this deletion as an indication of consciousness of guilt, but I have another theory. From the Google cache of Victoria Jackson's White History Month:
Find a white, middle-aged Christian man today and hug him. And then, encourage him and your white Christian sons to stand up, be leaders again, and save our country from the God-hating communists like Alec Baldwin and Obama.
I think Jackson must have gotten a flood of emails complaints from white, middle-aged Christian men asking her to stop her minions from hugging them all day. That's gotta get old real fast, and there are only a few hours of enjoyment left in White History Month.
Have a tip we should know? tips@mediaite.com