Conservative Radio Host Hugh Hewitt to Participate in CNN's GOP Primary Debate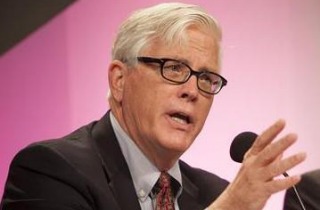 The Salem Media Group and CNN announced Tuesday morning a partnership to host three Republican primary debates, the first of which will include the participation of Salem's conservative radio pundit Hugh Hewitt. Hewitt, a revered figure in conservative circles, is regarded as a fierce interviewer. (See, for instance, his forty-five minute knockabout with journalist David Corn from yesterday.)
"These debates come at a critical time, and good questions will allow Republican primary voters the opportunity to see and hear their would-be nominees provide answers to issues that genuinely concern them," Hewitt said in a statement. "Any reporter who is also a political junkie welcomes the chance to be on such a panel, which of course I do."
RELATED: RNC Spokesman: Breitbart, Daily Caller Should Be Moderating GOP Debates
The debate will be held September 16 at, wait for it, the Ronald Reagan Presidential Library in Simi Valley, California. All three will be carried on Salem Media's radio and syndication network, and covered on its host of conservative websites, including Townhall, Red State, HotAir, and Twitchy, hooray.
The RNC has endeavored to more tightly control over the primary debate process, which in 2012 became a protracted and unwieldy affair.
UPDATE — 12:35 p.m. ET: A CNN spokesperson reached out to correct the record: Hewitt is not moderating the debate — a CNN anchor will have that duty. Instead, the conservative radio host will ask a question or participate in some similar manner.
[h/t CNN]
[Image via Hugh Hewitt]
——
>> Follow Evan McMurry (@evanmcmurry) on Twitter
Have a tip we should know? tips@mediaite.com