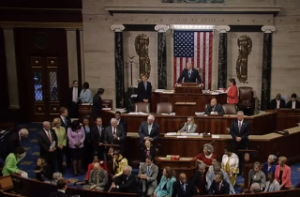 The conservative watchdog group Foundation for Accountability and Civic Trust (FACT) has filed a complaint against House Democrats for their sit-in last week, alleging that the Democrats violated House rules while protesting a lack of action on gun control.
"In spite of the clear ethical rules prohibiting such solicitations, House Democrats sent fundraising emails based on action taken in the Members official capacity and using House images," FACT Executive Director Matthew G. Whitaker wrote in his letter to the Office of Congressional Ethics.
The letter specifically names Representatives Jarred Huffman, John Lewis, Ben Ray Lujan, House Minority Leader Nancy Pelosi, and members of the Democratic Congressional Campaign Committee (DCCC).
Whitaker argued that these Democrats violated congressional ethics rules by soliciting donations in connection with action taken in their official capacity and also for using images from the House floor for political purposes.
House Democrats occupied the House floor from Wednesday morning until very early Thursday morning. As cameras in the chamber were turned off, representatives began using their cell phones to record and livestream the sit-in. The DCCC sent out a number of fundraising emails during the sit-in, including one signed by Pelosi, who was present. As critics noted, phones and cameras are not permitted on the House floor.
OpenSecrets.org writes that the non-profit FACT was "organized in 2014 as a conservative counterweight to watchdog groups viewed as more left-of-center, such as Citizens for Responsibility and Ethics in Washington." The site also notes that despite FACT's stated aim to promote accountability and transparency, all of their funding in their inaugural year came from Donors Trust, a conservative organization that siphons anonymous contributions from donors in order to "safeguard their charitable intent," according to their website.
Have a tip we should know? tips@mediaite.com