Conservatives Against Trump Release Statement Calling for Anti-Trump Unity at Convention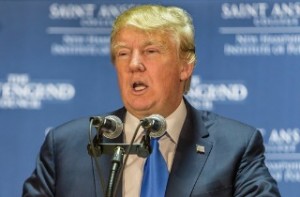 Earlier today, a group of influential conservative leaders and operatives held a private meeting to discuss efforts to take down Donald Trump and even discuss third-party options if he's the GOP nominee. There's been a growing #NeverTrump movement by conservatives troubled by Trump not just as a non-conservative, but as an immoral choice for the presidency.
One of the major conservatives in attendance there was Erick Erickson, who wrote today that he's more than a little amazed by how much Trump supporters have invoked "the will of the people" to make the case for rallying around him.
Erickson's retort? "I have signed no oath of loyalty to Donald Trump or the GOP. The fact is very simple — Trump needs my vote. I do not need Trump, nor will I give Donald Trump my vote."
He declared that Trump is a "moral cretin" and said, "If that means Hillary Clinton becomes President of the United States, Donald Trump's supporters can carry that burden. Everyone saw it coming except for them."
And Erickson also released a statement that he and everyone else who participated in that meeting agreed to. Here it is in full:
We are a group of grassroots conservative activists from all over the country and from various backgrounds, including supporters of many of the other campaigns. We are committed to ensuring a real conservative candidate is elected. We believe that neither Hillary Clinton nor Donald Trump, a Hillary Clinton donor, is that person.

We believe that the issue of Donald Trump is greater than an issue of party. It is an issue of morals and character that all Americans, not just those of us in the conservative movement, must confront.

We call for a unity ticket that unites the Republican Party. If that unity ticket is unable to get 1,237 delegates prior to the convention, we recognize that it took Abraham Lincoln three ballots at the Republican convention in 1860 to become the party's nominee and if it is good enough for Lincoln, that process should be good enough for all the candidates without threats of riots.

We encourage all former Republican candidates not currently supporting Trump to unite against him and encourage all candidates to hold their delegates on the first ballot.

Lastly, we intend to keep our options open as to other avenues to oppose Donald Trump. Our multiple decades of work in the conservative movement for free markets, limited government, national defense, religious liberty, life, and marriage are about ideas, not necessarily parties.
And countdown to angry Trump Twitter response…
[image via screengrab]
— —
Follow Josh Feldman on Twitter: @feldmaniac
Have a tip we should know? tips@mediaite.com
Josh Feldman - Senior Editor