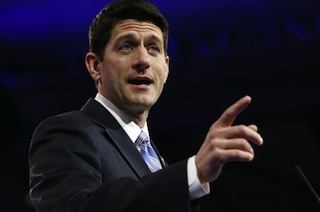 Representative Paul Ryan (R-WI) has been strangely silent on the government shutdown stalemate, especially since budgetary matters are allegedly his wheelhouse.
He spoke today. In an op-ed in the Wall Street Journal, Ryan proposed a deal to solve the government shutdown: trade sequestration-induced cuts for entitlement reforms:
If Mr. Obama decides to talk, he'll find that we actually agree on some things. For example, most of us agree that gradual, structural reforms are better than sudden, arbitrary cuts. For my Democratic colleagues, the discretionary spending levels in the Budget Control Act are a major concern. And the truth is, there's a better way to cut spending. We could provide relief from the discretionary spending levels in the Budget Control Act in exchange for structural reforms to entitlement programs.
All well and good, but Twitter immediately erupted over one crucial word missing from Ryan's op-ed: ObamaCare.

Defunding the Affordable Care Act was ostensibly the reason Republican members of the House brought negotiations over a continuing resolution to an impasse in the first place, though House Speaker John Boehner (R-OH) has been inching the discussions away from ObamaCare as the debt ceiling has come into play.
Conservative reaction to Paul's attempt to pivot the discussion to entitlement reform ran the gamut from confused to angry:

Here's Senator Ted Cruz's (R-TX) Senior Communications Advisor:

…and Heritage Action's Communications Director:

…and the New York Times' conservative columnist picking the brain of the National Review's Washington editor: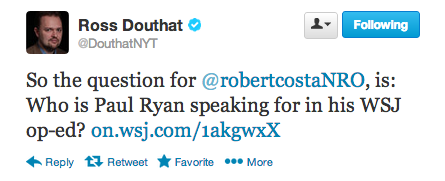 [Image via Atlantic]
——
>> Follow Evan McMurry (@evanmcmurry) on Twitter
Have a tip we should know? tips@mediaite.com