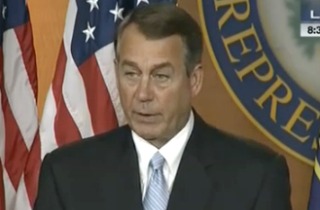 This week, House Speaker John Boehner (R-OH) will head to California to help GOP candidates raise money in their House campaigns. Unfortunately, one of those GOP candidate is openly gay, which means that certain conservatives are pissed at Boehner.
Several conservative interest groups, including the Family Research Council and National Organization for Marriage, blasted Boehner and the GOP leadership for supporting House hopeful Carl DeMaio, who's currently tied with sitting Rep. Scott Peters (D-CA) in polls. According to them, DeMaio, a former San Diego city councilmember who's openly gay, is "antithetical to the Republican platform," they wrote. "Mr. DeMaio supports and aggressively advocates for the redefinition of marriage, and welcomed the judicial activism of the federal courts which stripped the people of California of their votes in support of maintaining marriage as the union on one man and one woman."
Boehner and the NRCC have backed other openly gay and pro-gay rights candidates in this election cycle, and at one GOP senate candidate prominently featured a gay couple in a television ad. While DeMaio did not go as far as to praise Boehner ("We welcome all support from wherever it comes from," he told The Hill), he did blast the socially conservative interest groups for attempting to impede the GOP's attempt to secure their control of the House.
"I'm disappointed but not terribly surprised that some extreme far right groups would rather lose elections than win elections, and have been very destructive for so many years within the Republican Party," DeMaio told The Hill. "I'm glad so many people are finally realizing that and standing up to that, saying we may not agree on all issues but we agree on the vast majority of issues."
[h/t TPM]
[Image via screenshot/C-SPAN]
—
>> Follow Tina Nguyen (@Tina_Nguyen) on Twitter
Have a tip we should know? tips@mediaite.com