Copenhagen Survivor: We Watched a PowerPoint Presentation Right After Terrorist Attack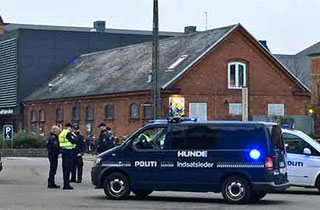 A group of survivors from Saturday's shooting in Copenhagen were attending a conference on free speech, and decided, soon after the terrorist attack ended, that they had to continue with their presentations.
Niels Ivar Larsen, a Danish journalist, was on the conference's organizational committee and was watching a presentation from Femen when the first bullets started flying through the cafe's windows. As he recounts on Danish websiteInformation, he dove behind a "black plastic coffee table" and hid during the assault. "The fight for freedom of speech has always been the most important thing for me," he wrote. "But was it really meant to be that I would die for it? Martyrdom is for fanatics, not democrats. Imagine dying for an ugly drawing of a Swedish dog with a prophet's face. What an absurd reason to die. What an absurd reason to kill."
After many, many long minutes, Larsen heard police sirens, and soon they had set up a perimeter around the café. Not knowing what to do, and with many of the attendees having escaped, Larsen made an announcement. "We must continue, there is nothing else to do. Continue with the people who are still here!"
And so they continued:
…Agnieszka Kolek, the chairwoman of the committee, is here. So we listen to her.

Kolek, a fortysomething woman with a sharp face, is remarkably succinct. There's no sign of anxiety. She is completely uninhibited in her body language. Calmly, she asks for the lights to be dimmed so we can have a better look at the details of the pictures in her PowerPoint presentation. The remaining attendees slowly find their chairs, as if they are sleepwalking. Kolek speaks and completes her presentation. But nobody seems to be listening. Everyone is hunched over their mobile phones and texting; they are silent, and shaking.
Eventually, police escorted them out of the building to a station for interrogation. "It was not a bad dream, not a stupid film," Larsen suddenly realized. "Terror has hit, it has hit Copenhagen, it has hit us all right in the heart. The question is, how long will this nightmare last?"
[h/t Information]
[Image via screenshot]
—
Have a tip we should know? tips@mediaite.com