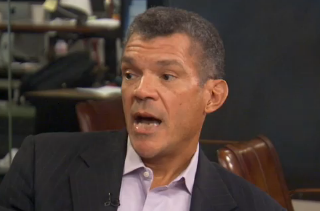 The resurgence of media attention to the rape allegations against Bill Cosby has been mostly credited to comedian Hannibal Buress joking about it in his act last month. But before video of that routine went viral, there was the release of Mark Whitaker's major biography, Cosby: His Life and Times
, in September.
At the time, several news outlets brought up the fact that the sexual assault allegations were completely omitted from Whitaker's book, despite the fact that they were publicized years earlier. Confronted about his decision to leave them out by The Huffington Post's Marc Lamont Hill, Whitaker said:
"In these cases, there were no definitive court findings, there were no independent witnesses, and I just felt, at the end of the day, all I would be doing would be, 'These people say this, Cosby denies this.' And as not only a reporter but his biographer, if people asked me, 'What is the truth? What do you think?' I would be in the position of saying, 'I don't know,' and I just felt uncomfortable."
But now, after The New York Times' David Carr published a column that took Whitaker — and himself — to task for not addressing the allegations more aggressively in the past, the author has issued an apology on Twitter.
"We all have our excuses, but in ignoring these claims, we let down the women who were brave enough to speak out publicly against a powerful entertainer," Carr wrote. "Mr. Whitaker has said he didn't want to put anything in the book, which he wrote with Mr. Cosby's cooperation, that wasn't confirmed — which of course raises the question of why he wouldn't have done the work to knock down the accusations or make them stand up."
In response, Whitaker tweeted:
@carr2n David you are right. I was wrong to not deal with the sexual assault charges against Cosby and pursue them more aggressively.

— Mark Whitaker (@Marktwhitaker) November 24, 2014
@carr2n I am following new developments and will address them at the appropriate time. If true the stories are shocking and horrible.

— Mark Whitaker (@Marktwhitaker) November 24, 2014
It was the biographer's first acknowledgement that leaving the accusations against Cosby out of his comprehensive book about the comedian was a mistake.
Watch Whitaker's initial response to the question below, via HuffPost Live:
[Photo via screengrab]
— —
>> Follow Matt Wilstein (@TheMattWilstein) on Twitter
Have a tip we should know? tips@mediaite.com