Coulter Goes Birther, Attacks Obama for Visiting Japan and Speaking Against Nukes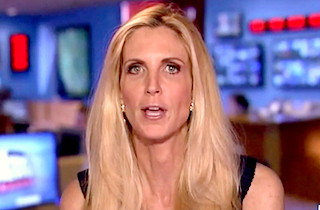 Oh, you weren't impressed that President Obama spoke about the dangers of a world full of nuclear weapons while he visited Japan? Have no fear, Ann Coulter is right there with you!
Obama made history on Friday when he became the first sitting president to visit Hiroshima, the Japanese city rebuilt from the blast crater where the first atomic bomb was ever used in a wartime scenario. Obama did not exactly apologize for President Harry Truman's actions expediting the end of WWII, but he did give a somber speech about how the world must prioritize efforts to avoid nuclear conflict in the future, while also acknowledging the "instinct for domination or conquest" that led to World War II, and the tremendous toll it took on the entire world.
Coulter, who has egged-on birtherism and is effectively Donald Trump's hit-woman by now, made sure everyone knew that she was not impressed with what she heard.
USS Arizona is the tomb of about a thousand men. Oil still leaks from it — to this day. That's where Obama should be.

— Ann Coulter (@AnnCoulter) May 27, 2016
Idea on how to prevent Hiroshimas: Don't stage SNEAK ATTACKS on America. https://t.co/UXeDXt8ggo

— Ann Coulter (@AnnCoulter) May 27, 2016
Hiroshima ended a war we didn't start & saved a million lives. We need to make sure EVERY TIME there's a sneak attack, this happens.

— Ann Coulter (@AnnCoulter) May 27, 2016
To top it all off, Coulter threw in her "birther"-type shot at Obama as she described how Trump would be far greater president to have for America's next Memorial Day.
For someone "born in Hawaii," you'd think Obama would prefer visiting Pearl Harbor. pic.twitter.com/F3z1UwHVy9

— Ann Coulter (@AnnCoulter) May 27, 2016
GUARANTEE: Next Memorial Day weekend won't find President Trump in an Axis country, groveling.

— Ann Coulter (@AnnCoulter) May 27, 2016
Coulter apparently missed the portion of President Obama's speech in which he said that "There are many sites around the world that chronicle this war — memorials that tell stories of courage and heroism; graves and empty camps that echo of unspeakable depravity," but you can see that speech here.
[Image via screengrab]
— —
>> Follow Ken Meyer (@KenMeyer91) on Twitter
Have a tip we should know? tips@mediaite.com