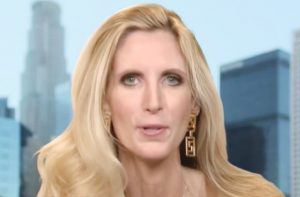 Ann Coulter was one of Donald Trump's biggest supporters during the campaign, especially on the issue of immigration. But she tweeted yesterday that she's worried about a "big sell-out" coming.
VP-elect Mike Pence talked about what the Trump administration's plans for immigration are. Here's one exchange he had with Scott Pelley:
PELLEY: Just since the election, President-elect Trump has reversed himself on prosecuting Hillary Clinton and on deporting 11 million illegal immigrants in this country. Did he just say those things to get elected? Did he never intend to do them?

PENCE: I think what the American people know they have in President-elect Donald Trump is someone who speaks straight from his mind and straight from his heart. And on the issue of illegal immigration, I promise you, as we were meeting yesterday on Capitol Hill with leaders of the House and Senate, we're going to go straight to work after this Congress convenes and this administration takes office. And we're going to pass policies that will end illegal immigration in this country.
Well, after Mickey Kaus tweeted about it, Coulter tweeted about the "sell-out" she thinks is coming:
When Pence says he and @PaulRyan are "going to go straight to work" on immigration, I get very nervous … https://t.co/fiXksV5kjU

— Mickey Kaus (@kausmickey) December 2, 2016
Sounds like the big sell-out is coming. Oh well. The voters did what we could. If Trump sells out, it's not our fault. https://t.co/tdMpAuDaRI

— Ann Coulter (@AnnCoulter) December 2, 2016
But Coulter ended up setting off Bill Mitchell, another one of Trump's most vocal supporters on Twitter. Mitchell went on a tear against Coulter yesterday after her tweet:
.@AnnCoulter needs to make up her damned mind. One minute she is praising Trump, the next she is worse than #NeverTrump. No longer a fan.

— Bill Mitchell (@mitchellvii) December 3, 2016
Oh shut up @AnnCoulter, seriously. I get sick and damned tired of your belly-aching. We didn't elect YOU. #TrustTrump. https://t.co/OjBTsKZVzu

— Bill Mitchell (@mitchellvii) December 3, 2016
Looks like @AnnCoulter wants to be the new head of #NeverTrump. I'm done with her.

— Bill Mitchell (@mitchellvii) December 3, 2016
I'm confused. So is Trump supposed to check in with the all powerful @AnnCoulter before he makes personnel or policy decisions? #smh

— Bill Mitchell (@mitchellvii) December 3, 2016
I am guessing @AnnCoulter's plan for success is for Trump to alienate and make mortal enemies of everyone he needs to pass legislation?

— Bill Mitchell (@mitchellvii) December 3, 2016
Thank God we elected Trump and not @AnnCoulter. He knows how to get things done. If I need a Complainer-in-Chief, I'll elect Ann.

— Bill Mitchell (@mitchellvii) December 3, 2016
I am not an emotional person and rarely if ever get pissed off on Twitter. This @AnnCoulter #NeverTrump'ing pisses me off.

— Bill Mitchell (@mitchellvii) December 3, 2016
Someone needs to ask @AnnCoulter how undercutting Trump and sowing discord within the base accomplishes a g-damned thing?

— Bill Mitchell (@mitchellvii) December 3, 2016
And don't ask me to play nice with @AnnCoulter. I've had it with her, "Trump is betraying us!" BULLSH*T.

— Bill Mitchell (@mitchellvii) December 3, 2016
I don't take positions because they are popular, I take them because they are right. They just become popular…

— Bill Mitchell (@mitchellvii) December 3, 2016
I have news for @AnnCoulter and the rest of her new #NeverTrump movement. Donald Trump can handle Paul Ryan and Mitch McConnell.

— Bill Mitchell (@mitchellvii) December 3, 2016
.@AnnCoulter writes as if SHE is speaking for US. Sorry, Ann, speak for yourself. As for me, I'm MAGA with Trump all the way.

— Bill Mitchell (@mitchellvii) December 3, 2016
So @AnnCoulter has watched Trump this entire election and now fears a lightweight like Paul Ryan can manipulate him? #smh #TrustTrump

— Bill Mitchell (@mitchellvii) December 3, 2016
Sorry @AnnCoulter, Donald Trump will never sell us out. You, I'm not so sure of. https://t.co/OjBTsKZVzu

— Bill Mitchell (@mitchellvii) December 3, 2016
[image via screengrab]
— —
Follow Josh Feldman on Twitter: @feldmaniac
Have a tip we should know? tips@mediaite.com
Josh Feldman - Senior Editor