We've said this before: Esquire covers have their own thing going on — part bathroom stall, part scribbled-on cocktail napkin — and it usually works just fine. But Sam Worthington, spray-paint in hand, leaves us scratching our head. This month Esquire tried to hard.
Mediaite Grade (C): The graffiti aesthetic usually works as a background for whomever is on the cover, but as soon as the grafitti becomes the cover itself and we have to ask questions like "why is Sam Worthington holding a can of spray-paint?" then a line has been crossed. The cover should never trump the cover boy or girl (a 'nose to spite face' cliché comes to mind). Not that we minded the Bar Refaeli–Stephen King cover … that was 'artsy.'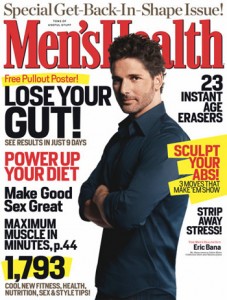 Wait, haven't we seen Eric Bana, arms folded, facing slightly to his right, on the cover of Men's Health before. Yeah, yeah we have, in 2006. But forget that. How many times have we seen the deck "Lose Your Gut!" on the cover … We've lost count.
Mediaite Grade (C-): We really shouldn't be so tough on Men's Health because it is, at the end of the day, a magazine for guys who are looking to get in shape, who are looking to 'lose their gut' — not guys who are looking to be ravishingly cool or hip. But would it kill them to shake it up every once in a while?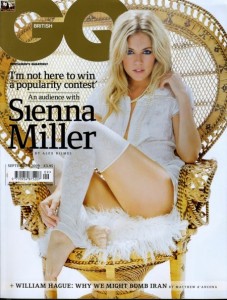 Good to know that British GQ isn't afraid to use a little bit of sex to sell magazines. In fact, British GQ readers are accustomed to seeing babes on the cover (July was Megan Fox), unlike the readers of the staid American version,which is perennially stocked with skinny-tie clad men, usually of the Hollywood variety. To be fair, the American Jennifer Aniston and Gisele covers were great — but not this good.
Mediaite Grade (B+): We tip our hat once again to the Brits for doing such a swell job pulling off 'sophisticate sexy' so well. If only American men's mags had enough control to put beautiful women on the cover without taking a total nose-dive into the pseudo-porn dumpster (hi Maxim!).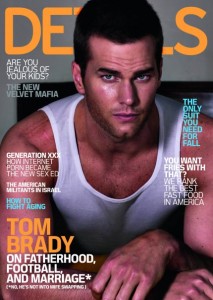 Bloodshot eyes. Dirty wife-beater. Scratched and scarred shoulder. Unkempt facial hair. Tom Brady looks like he just got off a serious bender. It's like he needs our help: He needs us to buy a six pack and the September issue of Details and listen to him vent. And maybe in the process we'll learn how to look as good hungover as he does.
Mediaite Grade (A-): The last time that Details was in Cover Wars, we ragged on them for being "less than edgy"; Jason Bateman was on the cover that month, and there just wasn't any spark. But we've put that all behind us this month — Tom  Brady looks gritty as hell. Details is back! Did somebody say Mandingo Sex Party?
COVER WARS WINNER: Damn you, Details. You've tricked us again. You took some pretty-boy celeb/athlete and made us think he was just like us. Oh well, we'll have to settle for reading about "Fatherhood, football and marriage."
Have a tip we should know? tips@mediaite.com