Mediaite Interviews The Great Chuck Woolery At CPAC, He Is No Fan Of President Obama
Mediaite Interviews Chuck Woolery At CPAC, He Is No Fan Of President Obama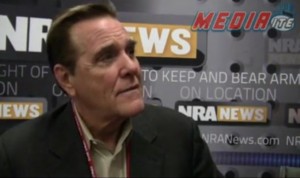 The Conservative Political Action Conference is like the 4th of July, Mardi Gras, and Festivus all rolled up in one for conservatives, and it draws a galaxy of right-leaning stars. Despite a late arrival, I managed to wander across one of the biggest of them all: former Love Connection and Scrabble host Chuck Woolery. Turns out, he's here to Restart Congress, and he's no fan of President Obama.
It's possible that Mr. Woolery thought I was pulling his leg, but in four years of covering CPAC, I don't think I've been this excited to meet someone, not even Rachel Maddow (mainly because we were already acquainted online, but still). As a kid, I was a huge game show fanatic, and Chuck was the best, possessed of a true wit. Am I disappointed that he's on the other team? Maybe a little, but maybe it's some kind of epidemic with game show hosts; Pat Sajak is another well-known conservative.
RELATED: Shepard Smith: An Interview With The Hip Hop-Loving, Eli Manning-Texting Fox News Anchor
Chuck graciously sat for an impromptu interview, in which he described the Restart Congress project, talked a little Universal Health Care, and tried like hell to think of one thing President Obama has done right. As for the current Republican presidential field, they will have to wait for the Woolery Bump. He's not endorsing.
Here's my interview with Chuck Woolery, followed by some brief notes and pictures from my first few hours at CPAC:
This is my fourth CPAC, so by now, it's a lot like summer camp, re-connecting with people I haven't seen since last year, and keeping an eye out for stray content. I'm used to it by now, but it is worth noting that despite my well-known liberal leanings, this conference has always been very welcoming to me.
The vibe this year is upbeat compared to last year, which is a bit of a surprise. Following closely on the heels of the 2010 midterms, CPAC 2011 had an ugly, decidedly non-triumphant feeling, yet now, with a chaotic presidential primary race, everyone's looser and lighter.
Here's a slideshow of some of the sights at CPAC 2012 so far:
[imageviewer id=112]
Have a tip we should know? [email protected]