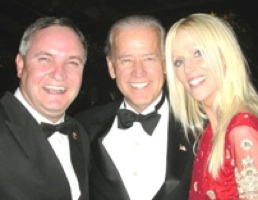 As a Congressional hearing gets underway to drill down on how the uninvited Salahi couple managed to breach White House security, the White House has removed any and all doubt as to whether the Secret Service might have had a legitimate excuse for letting the couple past the first checkpoint.
The way the White House and the Secret Service have been talking about this incident so far has left open the possibility that a less serious breach may have occurred. I contacted the White House to see if they could eliminate those possibilities.
As I said yesterday, the emails between the Salahis and Michelle Jones left open the possibility that the couple were not invited to the dinner, but may have been cleared for the arrival ceremony. A White House official told me that "the Salahi's were not cleared to enter the White House grounds for any reason…Not being waved in means not being waved in for anything at all, or as (we've said), not cleared to enter the White House grounds for any reason."
The emails also state that their names, ss#, etc, were submitted in case tickets became available. If there had been a background check done just in case they got in, and a computer record remained when the Secret Service looked them up at the checkpoint, it would mitigate the breach somewhat. Of the submission of the Salahis' request, the White House official told me the following:
"No (there was no background check). No. On Friday November 20, Michele Jones's office sent a request to the White House office of Public Engagement for two arrival ceremony tickets for the Salahis. That request was denied by the White House Office of Public Engagement later that same day."
White House staff, including Press Secretary Robert Gibbs, have evinced frustration that their statements on this story have been questioned and dissected so, but they should understand that, knowing how vigilant Secret Service is, and knowing how vigilant the White House press office staff are, it's not at all obvious that the Salahis should have been able to BS their way past a guy whose sole job it is to make sure they belong there, and then shake hands with the President and Vice President without any of the White House staff noticing they weren't supposed to be there.
The White House also raises questions by not making WH Social Secretary Desiree Rogers available to testify at the hearing. Without her or the Salahis at today's hearing, all that's left is the Secret Service, who were eager to take the blame from day one, even before an investigation had begun.
Have a tip we should know? tips@mediaite.com