Creationist Who Thinks Obama Was Gay Prostitute May Get Voted Onto TX State Board of Ed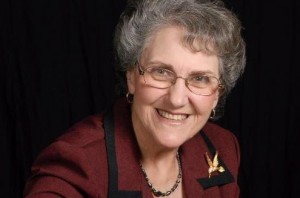 Mary Lou Bruner is poised to win a seat on Texas State Board of Education, and that should scare you. She is a creationist and conspiracy theorist whose Facebook ravings have betrayed a powerful allergy to reality — oh, and she believes that President Obama has "a soft spot for homosexuals because of the years spent as a male prostitute in his twenties."
If elected, she claims she will "promote conservative curriculum standards aligned with Texas values," which, given the values and beliefs she's espoused… is a little bit troubling.
As of this writing, Bruner appears to have purged the insanity from her public Facebook page. Luckily, Gawker ran a thorough and thoroughly horrifying profile of Bruner back in February, preserving these rants for future generations, in which she lays out her insane positions on… (deep breath):
climate change, which she calls a "government hoax";
dinosaurs, for which she postulates a number of theories as to why they didn't survive the flood described in Genesis;
school shootings, which "started after the schools started teaching evolution";
sex ed, textbooks for which are "inappropriate in my opinion" because they contain nudity;
JFK, whom the Democratic party murdered in order to replace him with…
LBJ, a "socialist president" and "bad guy";
Islam, a "cult religion" and "inhumane totalitarian political ideology," whose practitioners should be banned from the U.S.;
United Nations, which is part of the New World Order plot to "reduce the population of the world by 2/3" and that "one of these methods of depopulation are in the Global plan: World War III, mass faminine [sic], mass disease epidemic or pandemic, or Nuclear Bomb. People, are you listening?"
Oh, and same-sex marriage? In her own words (caps in the original):
WE MUST CHANGE THE THINGS WE CANNOT ACCEPT. WE CANNOT ACCEPT UNCONSTITUTIONAL COURT RULINGS WHICH DESTROY FREEDOM OF RELIGION PROTECTED BY THE FIRST AMENDMENT. WE CANNOT ACCEPT THE FEDERAL GOVERNMENT STOMPING ON STATES' RIGHTS. WE CANNOT ACCEPT THE DESTRUCTION OF TRADITIONS WHCH ARE THOUSANDS OF YEARS OLD AND THE BEDROCK OF OUR SOCIETY. WE CANNOT ACCEPT A COURT RULING THAT SAYS IMMORALITY IS JUST AS APPROPRIATE AS MORALITY. WE CANNOT ACCEPT THE COURT RULING WHICH SAYS GAY MARRIAGE IS LEGAL IN ALL 50 STATES REGARDLESS OF WHAT THE STATE LAWS SAY. WE CANNOT ACCEPT 9 UNELECTED JUDGES TAKING IT UPON THEMSELVES TO CHANGE THE CONSTITUTION ALL BY THEMSELVES, OVER-RULING THE VOICE OF THE PEOPLE.
When she couldn't get her iPad to work, she blamed it on forces from on high retaliating against her for having said that "Obama was a sheikh and Congress, The Supreme Court, The Cabinet Members, the heads of government agencies, and the Obama Czars are his harem."
This woman netted 49 percent of the vote in a GOP primary Tuesday for a seat on the Texas State Board of Education, which — as I said earlier — should scare you, even if you don't live in Texas. Daily Beast's headline succinctly lays out our predicament: "Anti-Gay, Pro-Creationism Birther Could Change America's Textbooks."
[M]embers of the Texas State Board of Education wield a huge influence not just in Texas but all over the country, simply as a result of the massive size of Texas' textbook market. Learning materials developed for Texas' 5 million students are often used in other states as well, which is why the ongoing kerfuffle over historical, um, flourishes in the books—describing slaves as "workers from Africa," say, or referring to the slave trade as the "Atlantic triangular trade," or recasting the causes of the Civil War—remains such a big news story.
Bruner failed to clear 50 percent of the vote, so it looks like there will be a runoff election. You have one more chance, District 9.
[image via Bruner's campaign website]
This is an opinion piece. The views expressed in this article are those of just the author.