Creators of HBO's Silicon Valley Open Up About T.J. Miller's Departure: He 'Wasn't LeBron'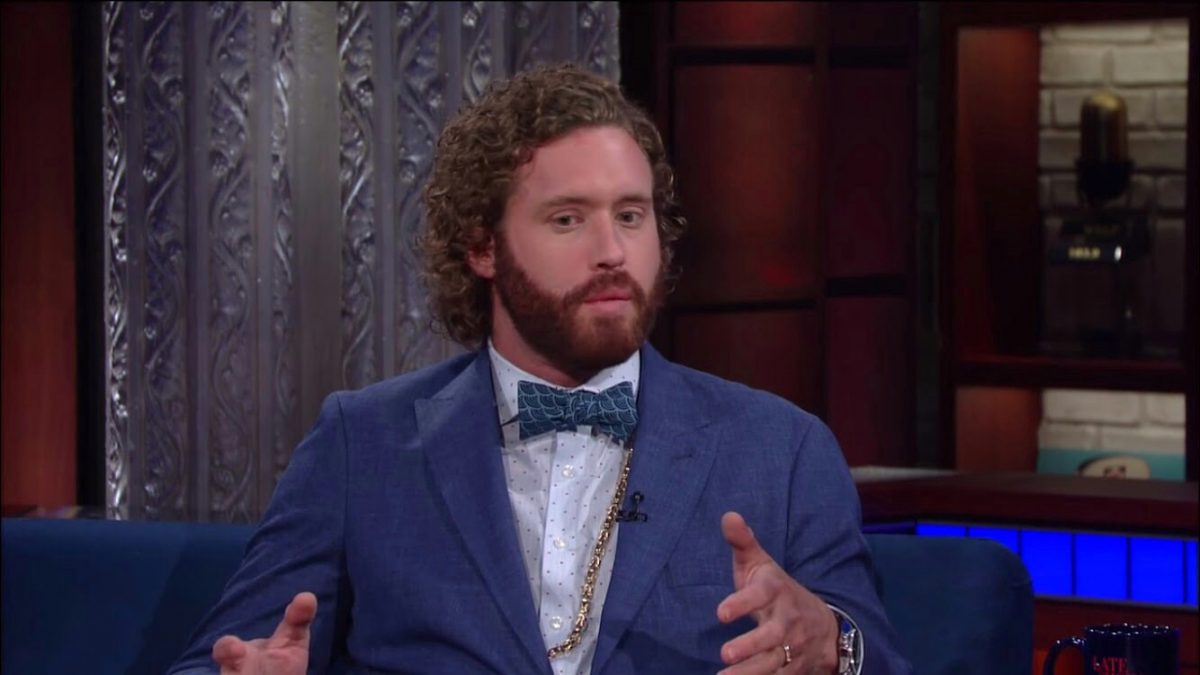 Three months after sexual assault and sexual violence allegations came out against former Silicon Valley star T.J. Miller, the co-creator of HBO's hit series Silicon Valley Mike Judge described the rocky departure and explained the show will go on after the actor left due to "pushing" himself "to do too much."
Judge and Alec Berg spoke to The Hollywood Reporter in a lengthy interview, with Berg saying Miller "wasn't LeBron" — meaning, the show can still win without him, as they have other stars holding things down:
"These guys are the Golden State Warriors of comedy. So, it's like, yeah, we've lost Andre Iguodala but we still have Steph Curry and Kevin Durant and Klay Thompson and some other guy on the Warriors whose name I don't know. But I don't feel like we can't win championships anymore because we've lost [Miller] — T.J. wasn't LeBron."
Aside from the LeBron James comparison — which Miller responded to with laughter — Judge described the departure without mentioning the allegations, a surprising move considering many stars left their roles in recent months over sexual misconduct issues. Instead, he pointed to the actor's simple inability to show up to filming sessions in the right state of mind — or show up at all.
"There are a lot of different ways you can find out somebody doesn't want to do the show anymore," Judge said — referencing Miller's hectic schedule and rumors of substance abuse. "And it's not fun to work with someone who doesn't want to be there, [especially when] they're one of the main people and you've got however many crewmembers and extras and people who are [not paid as well] and they're all showing up before 7 a.m., and then are just like, 'Oh, OK, we're not shooting today.'"
Miller had a chance to return for a few episodes in the show's upcoming season — which may be their second-t0-last — but opted to jump ship in the fourth season instead.
He also responded to the gossip over his dealings with alcohol and drugs by suggesting they aren't entirely true, and his failure to show up to Silicon Valley duties had more to do with his passion for stand up comedy than anything else.
"In real life, I'm not always high like Erlich is. And this will blow your readers' minds, but I'm not high when I work because it gets in the way of the comedy. I also am not a guy who's blackout-drunk, bumping into things on set," said Miller in a phone call with THR. "What was occurring was I was out doing stand-up all the time, even if it meant I only got three hours of sleep. So, the thing I have a problem with? It's pushing myself to do too much."
As for the allegations reported by The Daily Beast, Miller vehemently denies the claims, but given they were leveled amid the #MeToo movement — a post-Harvey Weinstein era for the entertainment industry when the tolerance for such accusations has lowered immensely — questions remain regarding his future career opportunities.
[image via screengrab]
Follow the author on Twitter (@calebecarma).
Have a tip we should know? tips@mediaite.com