Cruz Gets Final Word On Dildos: What People Do 'With Themselves' Is Their Business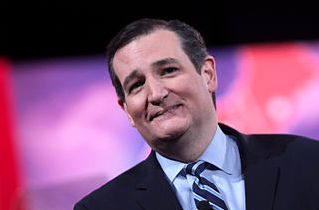 After Ted Cruz's old roommate Craig Mazin weighed in on the presidential candidate's alleged love of self-love and our own Alex Griswold chimed in to say that Cruz never actually tried to ban dildos, it seemed like the whole conversation surrounding the Texas senator and sex toys was mercifully over.
There is one person we didn't get to hear from when it came to the allegations that Ted Cruz valiantly fought the forces of godless, partnerless self-stimulation, though, and that person is Ted Cruz himself.
Guess what? One intrepid reporter got the courage to ask Cruz about all this directly. Curtis Sliwa got an interview with the candidate and wasted no time in getting to the hard stuff, if you know what I'm saying.
SILWA: …that you are not going to go into any of those entertainment complexes and — if you become president — all of a sudden ban the sale of sexual toys, dildos, or anything that sexually stimulates you?

CRUZ: Look, of course not. It's a ridiculous question and of course not. What people do in their own private time with themselves is their own business and it's none of government's business.
So there you have it! Ted Cruz believes in your right to masturbate and does not want to take it away from you. Now that we've ruled conclusively that government shouldn't be interested in our monkey spanking and Skittle diddling, maybe we can rule that porn sites shouldn't be interested in the government, either.
[image via Gage Skidmore]
For more from Lindsey, follow her on Twitter.
Have a tip we should know? tips@mediaite.com