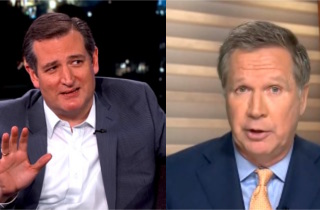 Sen. Ted Cruz has taken a new line of attack against John Kasich, accusing the Ohio governor of being weak on "religious liberty."
The tactic comes as Kasich is trying to establish himself as a standard-bearer for moderate Republicans, for whom social issues like opposition to gay marriage are not make-or-break issues, while Cruz is asserting his own unalloyed ideological conservative purity. Meanwhile, both candidates are struggling to chip away at frontrunner Donald Trump's delegate lead.
Throughout the campaign, Kasich, a conservative Christian, has demonstrated more open-mindedness than his GOP rivals on the question of "religious liberty," a gloss typically used to describe legislation that would grant legal immunity to Christians who choose to deny services based on their beliefs.
Back in September, for instance, he asserted that Kentucky county clerk Kim Davis should "follow the law," and more recently said that he would not have signed North Carolina's controversial so-called "bathroom" bill, which strips away legal protections for LGBT people in the Tar Heel State
He has urged that the nation strike a "balance" between the concerns of conservative Christians and LGBT activists, and in doing so, has managed to sound dismissive of both sides, telling both conservatives and LGBT activists to "get over" it.
For weeks, conservative commentators have been hammering Kasich for his dismissive tone toward "religious liberty." Cruz appears to have heard their call. In an interview with Conservative Review shortly before the New York primary, Cruz said:
I suppose King George could have given the same message, 'get over it,' while I strip your freedom. But thankfully the American people answered that demand with musket shot.
Have a tip we should know? tips@mediaite.com