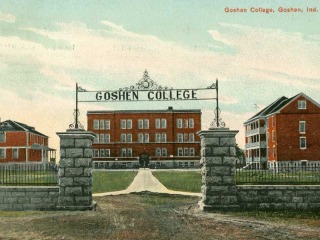 Well, this is different: Goshen College — a Mennonite school in Indiana –has banned the National Anthem from being sung or performed at its sporting events. Mennonites, for those unfamiliar, are a group of Christian Anabaptists who practice a strict adherence to non-violence. (If you live in New York City, you've likely seen groups of Mennonites handing out literature and singing on the subway.)
In keeping with its commitment to promoting peace, the school elected to play an instrumental version of "The Star-Spangled Banner" at two games back in March of 2010. Then, in June of this year, the school set out to find an alternative, less "violent" song to perform at its games.
In a memo dated August 19th, Goshen College President James E. Brenneman informed staff and students that, after careful consideration, he had chosen a new song: "America the Beautiful." Brenneman noted that the song fits met all the criteria set forth by the college's board of directors: It's well-known, it honors our country, it "resonates with GC's core values," and it "respects views of different constituencies."
The letter concludes with Brenneman writing that although "some may or may not agree with the alternative recommended here, I call now on each one of us to move beyond this decision and turn our attention to other important matters before us."
So now Maple Leaf fans can ruminate on America's natural beauty rather than rockets and bombs. What do you think of the school's decision?
h/t Bob's Blitz via NBC Sports
Have a tip we should know? tips@mediaite.com