D.C. Police Chief Laughs At Gun Marchers: 'There's A Very Good Chance We'll Meet Them' On The Bridge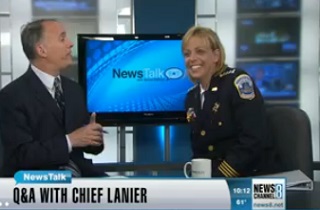 The July 4th Open Carry March on Washington being organized by libertarian radio host Adam Kokesh, which will purportedly feature thousands of marchers armed with loaded firearms, will be met with an unflinching police response, according to D.C. Metro Police Chief Cathy Lanier. In an interview with D.C.'s Newschannel 8 this week, Lanier said that if marchers attempted to carry loaded weapons into the district, they would be in violation of the law, "and we'll have to treat it as such."
Asked if the police would meet the marchers in force, Lanier laughed and said "There's a very good chance we'll meet them on the D.C. side of the bridge."
Adam Kokesh has spoken provocatively about the march, setting a goal of 10,000 attendees, and posting intimidating tweets like "When the government comes to take your guns, you can shoot government agents, or submit to slavery."
However, after promising defiant "civil disobedience" all over the city on the event's Facebook page, Kokesh quickly added that he would seek the cooperation of the police, and offer himself up as a canary in the coal mine to judge the police response. In an interview with Newschannel 8's Bruce DePuyt, Chief Lanier gave Kokesh an idea of what he's in store for.
NewsTalk host Bruce DePuyt asked Lanier if the armed protesters, who plan to march across the Arlington Memorial Bridge, will be allowed into the city.
"First, I want to clear up," Chief Lanier began, "There's a difference between civil disobedience, which I think this is being portrayed as, as civil disobedience, and actual violation of the law. There's two different things here. Civil disobedience, people come to D.C. to protest policies and government policy all the time—it's no problem. But when you cross into the District of Columbia with a firearm and you're not in compliance with the law, now you're talking about a criminal offense and there's going to be some action by police."
"There's no permit that's been filed by the organizer," she continued, "we have not made contact directly with the organizer, but we will, and we'll make sure that they understand that if they want to pass through the District of Columbia, as long as they're in compliance with the firearms laws for transportation of firearms through the District, we're all for it. But passing into the District of Columbia with loaded firearms is a violation of the law and we'll have to treat it as such."
Chief Lanier later added that even if Kokesh doesn't reach out to the Metro Police, she would try to make contact with him.
DePuyt then played a clip of Kokesh's internet radio show, in which he lapses into intermittent Shatneritis as he explains how he won't "cower before your tyranny, Washington," and describes the response to the march as "overwhelming."
Asked for her reaction, a clearly amused Chief Lanier responded, "Yeah, I've seen that," and reiterated that "if you're coming here to break the law, we're going to take action."
DePuyt asked "Is there a chance you'll meet them on the D.C. side of the bridge, with equivalent…"
Chief Lanier laughed and replied, emphatically, "There's a very good chance we'll meet them on the D.C. side of the bridge."
Clearly, Chief Lanier is far from intimidated by the prospect of meeting these marchers, in part because, as she later notes, previous threats to march on D.C. with loaded guns have amounted to nothing. As amusing as it might seem to watch Metro Police jack up a bunch of gun nuts, though, their eventual chickening-out will be for the best. A chaotic arrest scene plus loaded guns is an equation for someone to get hurt.
Here's the clip, from Newschannel 8's NewsTalk:

(h/t Politico)
Have a tip we should know? tips@mediaite.com